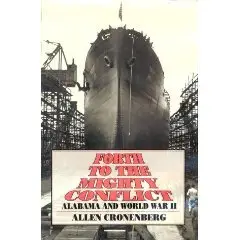 Forth to the Mighty Conflict: Alabama and World War II
University Alabama Press | Routledge | 232 pages | 1995 | ISBN: 0817307370 | PDF | 2 mb
On the eve of World War II, and still feeling the effects of the Great Depression, Alabama had a fairly progressive congressional delegation with strong ties to the Roosevelt White House. Governor Frank Dixon and aggressive civic leaders worked hard to bring military bases and defense investments to the state, with great success. Like other southern states, Alabama played a conspicuous role in training troops for war. Thousands of servicemen passed through Fort McClellan and Camp Rucker on their way to combat. Camp Sibert was the army's most modern facility for chemical warfare training. It was said that the road to Tokyo led through Montgomery's Maxwell Field, and nearly 1,000 African Americans learned flight skills at the Tuskegee Army Air Field before engaging the enemy over North Africa, the Mediterranean, and Europe. Nearly 17,000 Axis POWs, many of whom had been captured in North Africa, were imprisoned in Alabama. The first POW camp opened in Aliceville, and other large camps were in Opelika, Fort McClellan, and Camp Rucker. About one-third of the more than 900,000 draft-age men of Alabama and thousands of women served in the armed forces. Alabamians fought in every major battle and theater from the sinking of the Arizona at Pearl Harbor to the bombing campaign against Japan in the summer of 1945. An Alabamian was the first commander of the most successful American submarine in the war. An Alabamian supervised the formation of the "mighty" Eighth Air Force. An Alabama pilot and crew flew the first bombing raid from England against a German target on the continent of Europe. Another Alabamian was among the original group of women service pilots. An Alabamian pioneered thetechniques of modern amphibious warfare used by the army and marines in landings in North Africa, Europe, and across the Pacific. An Alabama general was one of only two National Guard generals to command their own troops in battle. An Alabamian has written what many critics have hailed as the finest memoir to emerge from the Second World War. Alabama's industries, farms, and forests produced the sinews of war. From Birmingham's steel and machinery plants, Mobile shipyards, arsenals in Huntsville and Childersburg, to the lumbering industry in the pineywoods, citizens gave total support to the war effort. With a third of Alabama's men at war, women workers were in great demand. As was true in the rest of America, however, these workers were the first to lose their jobs when the troops returned home at war's end. But the enhanced skills, work experience, and heightened self-esteem inspired their drives for change beginning in the 1950s, as Alabama was positioned for growth at the end of the war.