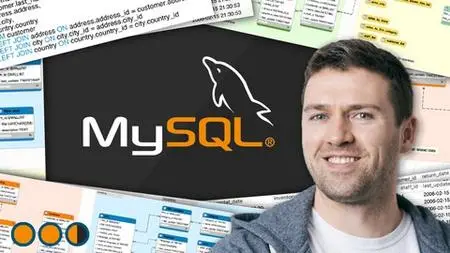 Advanced SQL Database Administration with MySQL Workbench
Duration: 7h 55m | .MP4 1280x720, 30 fps(r) | AAC, 44100 Hz, 2ch | 2.52 GB
Genre: eLearning | Language: English
Master advanced SQL skills for building, optimizing, and administering relational databases using MySQL Workbench
What you'll learn
Write SQL queries and use MySQL Workbench to create new databases from scratch
Explore database security threats and practice techniques like replication, backup and recovery
Leverage advanced automation tools like triggers, stored procedures, and scheduled events
Create and modify EER diagrams to understand table structures and relationships
Work through practical, real-world assignments and projects you won't find anywhere else
Get LIFETIME access to resource files, quizzes, assignments, and expert support
Requirements
MySQL Workbench and Community Server for Mac or Windows/PC (we'll walk through the free install)
If you are new to MySQL or database administration, we recommend taking our "SQL Database for Beginners" course first
Description
See why John is one of the TOP-RATED SQL/MySQL Instructors on Udemy:
"I totally loved this course! Everything was easy to understand, but it moved at a fast enough pace that I never got bored. I learned SO much about MySQL and had fun doing it. In fact, at the end of the day I didn't want to stop learning – I wanted to keep charging on to the next lesson!"
- Ann S.
"This is an excellent advanced course! I've taken multiple SQL courses from Maven Analytics and recommend them all. The best part of this course is the detail they included by building a real world e-commerce database. It's much easier to grasp the concepts when you can see how they're literally applied to scenarios and outcomes as opposed to just theory. Great work!"
- Dan S.
"John's deep understanding of SQL and database analysis and ability to explain those tools is really unmatched. I've taken other SQL and MySQL courses and tried reading books, but this course is by far the most effective. Excited to see more courses from John!"
- Steven M.
COURSE DESCRIPTION:
MySQL is a powerful tool for managing and analyzing relational databases, and a skill that every analyst and BI professional should have in the arsenal. In this course, you'll take your database administration skills to the next level, expanding into advanced concepts like replication, automation, and database security.
We'll start by introducing the course structure, installing MySQL Community and Workbench, and reviewing key database administration (DBA) tasks; creating and editing schemas & tables, inserting and deleting records, and reviewing the key principles of normalized databases. From there we'll work through more advanced concepts like replication, backup and recovery, and learn how to leverage automation via stored procedures, triggers, and scheduled events.
Throughout the course, you'll be playing the role of Lead Database Administrator for an e-commerce startup, and learn how to build and populate an entire database from the ground up using real-world projects and assignments.
COURSE OUTLINE:
SQL Intro & MySQL Setup
For students who haven't completed one of our other SQL courses, we'll demonstrate exactly how to download and install the tools that we'll need to access MySQL, including MySQL Community Server & MySQL Workbench. We'll share download guides for both Mac & PC, and run our first piece of SQL code to generate the project database that we'll analyze throughout the course.
Importing Data to the Database
We'll quickly review some basic concepts like creating, inserting, and deleting records. Then we'll learn how to tackle large data imports with ease, using the table data import wizard. We'll be using this handy tool throughout the course. You will construct and populate a database from the ground up as the business grows, just like a real DBA as part of the course project.
Altering, Updating & Mapping Keys
We'll briefly review critical concepts like altering tables and updating records, discuss the ins and outs of primary and foreign keys, and from there you'll jump right into your assignments and quizzes for this section.
Replication, Backup & Recovery
Here we'll introduce the critical DBA concepts of replication, backup and recovery. We'll discuss the various benefits of replication, different methods of backing up your databases, and you'll learn how to restore your data should the need arise. This is getting into some pretty serious stuff!
***MID-COURSE PROJECT
You will need all of the skills you've learned so far to complete this hands on mid-course project. You'll help your CEO by enhancing the data structure to accommodate changing business needs, and insert new data into various places within your database.
Trigger Automation
Here we'll dive into one of the most powerful automation tools you'll use as a DBA…triggers! You'll learn how you can create triggers to look for changes in the database via create, update, and delete statements, and then automatically enact changes on one of more of your tables. Triggers will be your best friend as a DBA, and can be extremely handy for Analysts to understand as well.
Creating Views
Sometimes you don't need to create a table, and a view (aka "a virtual table) is a better option. We'll walk through what views are, how you create them, and some of the major benefits of using views in certain situations.
The EER Diagram Editor
One of the best tools at your disposal for understanding your database and communicating its structure to others in your organization is leveraging EER Diagrams. We'll review some of the basics that we discussed in the Beginner course, and we'll also learn how to use the EER Diagram Editor to reverse engineer your schema, which is an extremely handy tool!
Stored Procedures & Scheduled Events
Next, we'll dive deeper into automation by learning how to create stored procedures and scheduled events. If you liked triggers, you're going to love these! You can use stored procedures to simplify your processes, make your code more modular and easier to understand, and centralize certain parts of complex queries that you can leverage throughout your organization. Scheduled events will allow you to run one-time or recurring processes on your database, which you can schedule on whatever cadence you want. These are really fun!
Automating Data from Website Activity
Here we'll be talking about the different types of data businesses typically track from their website activity, including traffic source data, on-site behavior, product purchases, and more. We'll discuss the various methods used to capture the various data types, and discuss the DBA's role in partnering with Engineering to make sure this is all working as it should.
Database Security
In the last section before the final project, we'll discuss some of the most common types of database security threats you should be aware of as a DBA, as well as security best practices to mitigate your risk. Again, we'll discuss the DBA's role in the organization, how a DBA will partner with Engineering here, and who typically owns what.
***FINAL COURSE PROJECT
This hands-on project will test all of your DBA skills. You will need to alter tables, import lots of data, design an optimal structure for an entirely new set of tables for a new business initiative, create an EER Diagram describing your new tables, and then you'll actually create them. After that, you'll need to create a stored procedure and a view, which will both used for reporting on the new data the company will be collecting. Finally, you'll need to come up with a comprehensive security plan to make sure your organization is aware of threats and following best practices. I know this sounds like a lot, but at this point you'll be ready for it!
IMPORTANT NOTE: This course does NOT go deep on data exploration and database analysis. Our goal here is to focus on building, altering, and maintaining SQL/MySQL databases using MySQL and MySQL Workbench (we cover data analysis in-depth in separate courses).
Enroll today and get LIFETIME access to:
8 hours of high-quality video
Downloadable MySQL ebook and cheat sheets
Quizzes and homework assignments
Mid-course and Final SQL projects
30-day money-back guarantee
If you're looking for a unique and engaging way to develop advanced MySQL database administration skills, this is the course for you.
Happy administering!
-John (Lead SQL Instructor & MySQL Expert, Maven Analytics)
Looking for the full business intelligence stack? Search for "Maven Analytics" to browse our full course library, including Excel, Power BI, MySQL, and Tableau courses!
Who this course is for:
Analysts or BI professionals looking to gain a deeper understanding of database management
DBAs who want to learn advanced database management & automation tools
Anyone seeking to master one of the world's most popular database programming languages
Students looking for a hands-on and project-based deep dive into database administration with MySQL
NOTE: This course does NOT cover database analysis (we cover data analysis in a separate course)
More Info