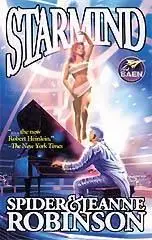 Baen Publishing Enterprises | Spider Robinson & Jeanne Robinson | Starmind

ISBN: 0671319892 | LIT Format | English | 278 Pages | Published: May 1, 2001 | 384 KB
Info
Description:
Disillusioned romantics, bitter, divorced people, and all those generally soured on life would do well to spend time with writers Spider and Jeanne Robinson. Or, in lieu of that, read their recently released STARMIND, the last book in the Stardance trilogy.

The Robinsons' novels are a wonderful antidote to cynicism and despair, which will come as little surprise to anyone familiar with Spider's clever science-fiction works or Jeanne's inspirational choreography.

With his shoulder-length hair, wire-framed glasses, and headband, Spider–yes, that is the name on his driver's licence–looks like the leftover hippie he claims to be. And at six-foot-one and 128 pounds, he leaves no doubt as to how he got his moniker. But his frail looks are as much an antithesis to his sharp, strong writing as his wry comments are to his optimistic novels. His funny, upbeat books, particularly the clever Callahan's Bar series, could be described as Prozac-on-the-page. During the course of our interview in the Robinsons' cosy West Side house, a friend with the blues calls to get the latest instalment of Spider's book in progress, CALLAHAN'S LEGACY [OUT IN HARDCOVER OCT 1996–SR]. Jeanne says a number of people have said that the Callahan books are a good cure for depression–which goes a long way toward explaining why Spider's bookcase holds three Hugo awards (which are judged by readers worldwide), as well as a Nebula (science fiction's answer to the Oscars), and a collection of other kudos.

The Robinsons' joint efforts, STARDANCE, STARSEED, and STARMIND, tell a hopeful story of how humans, beginning as dancers working in the zero gravity of space, evolve into creatures that live permanently among the stars. Along the way, the books talk about philosophy, love, art, and the big issues of life. And they are permeated with a sense of tolerance, compassion, and joyfulness.
~ Shannon Rupp
Download @ RapidShare