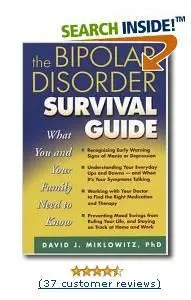 David J. Mik1owitz, "The Bipo1ar Disorder Surviva1 Guide: What You and Your Fami1y Need to Know"
The Gui1ford Press | ISBN 15723O5258 | 2002 Year | DJVU | 322 Pages | 2.1 Mb
The book offers a wealth of material that can help demystify the disorder. Mik1owitz methodically explains the disease, its symptoms and diagnosis, moves on to cogent explanations of its possible causes ("genetics, biology and stress"), then spends most of the book offering advice on how to manage it. He even offers worksheets and logs to help people come to a better understanding of and approach to illness.
Books by academic researchers always have the potential to be bone-dry. But Mik1owitz understands that accessibility is the goal here and is writing for the layperson, even peppering the text with real-life experiences of people with the illness . Reading some of these can be both illuminating and horrifying. Especially when they are in mania, people with this chemical imbalance can do some dangerous, illegal and destructive (to family, friends, self and even strangers) things.
Informative, interesting, and compassionate, "The Bipolar Disorder Survival Guide" is a valuable new resource for people with the illness, and their family and friends.