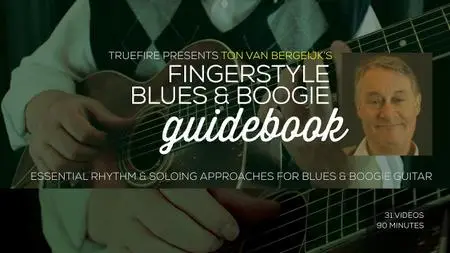 Ton van Bergeijk's Fingerstyle Blues & Boogie Guidebook
.MP4, AVC, 900 kbps, 960x540 | English, AAC, 128 kbps, 2 Ch | 1.5h | + PDF Charts | 777 MB
Instructor: Ton van Bergeijk
Blues Boogie Techniques & Repertoire for Fingerstyle Guitar
How would Blind Blake have played a Jerry Reed guitar boogie? What would it sound like if Jerry Reed and Roger Miller recorded together? Or if Big Bill Broonzy jammed with Tommy Tucker? How does a 60's R&B bassline enhance a 30's Country Blues?
Ton van Bergeijk's Fingerstyle Blues and Boogie Guidebook explores the wide world of blues and boogie and demonstrates how to artfully blend musical elements and techniques from the past to breathe new life into contemporary blues and boogie performances and vice versa.
"It has always been my belief that the gems from musical history can be used in many different ways. I've gathered licks, patterns, New Orleans piano based grooves, and other influences from country blues, swing, rhythm & blues, and even the funky 70's. I've adapted them for fingerstyle guitar and projected them on a blues and boogie environment. Fiddling and juggling all of these elements is what this course is all about. The old supporting the new, and the new enriching the old."
Ton van Bergeijk is a world renowned Dutch master of guitar, banjo, ukuleles, harmonica, and vocals. In the 60's Ton played in a duo with guitarist and vocalist Philip Kroonenberg. In the 70's Ton appeared as a solo-guitarist on Stefan Grossman's Kicking Mule label, recording five critically acclaimed fingerstyle blues and ragtime guitar albums. Ton has played with The Boulevard of Broken Dreams Orchestra, The Izzies, The Beau Hunks, and from 2004 through 2015 he was a key member of the internationally renowned Dutch Swing College Band. We are very proud and excited to welcome Ton to the family with his first TrueFire course, Fingerstyle Blues And Boogie Guidebook!

In the first section of the course, Ton guides you through 8 key concepts and techniques: CAGED System, Ton's signature approach to comping with Triad Chords, Ton's unique approach for Bending 6ths, Thumb Stumbles a la Blind Blake, Big Chief Rolls, Clawing, an inventive use of Half Diminished Chords, and Blues Turnarounds. Ton's experience playing with such a diverse range of bands, ensembles, orchestras, and solo performance makes this section's "priceless instruction" worth the price of admission alone!

In the second section of the course, you'll apply all of the key concepts and techniques from the first section as Ton guides you through 8 performance studies, all of which are taken from his latest album Pickin' Again: Blind Baking Beans, Gimme Some More, High Heel Sneakers, Keep On Gwine, Lonesome Day Blues, Water Wagon Moan, Weekend Boogie, and Won't Be Long.

Ton overviews and demonstrates all of the following performance studies and then breaks them down, emphasizing the concepts and techniques to master them and then "fiddle around with them to make them your own." Throughout these performance studies, Ton also shows you a variety of intricate rhythms, licks, and boogie bass lines on guitar, which were inspired by the piano work of James Booker, Ray Charles, Dr. John and Professor Longhair.

Blind Baking Beans - "This is a typical Blake Rag. The song has changed so much in the years, all that remains is the chord-progression. Somewhere in the late 70's I started playing in C with a dropped D tuning. This allows you to go higher up the neck with the non-C-chords."

Gimme Some More - "Here's a claw pattern on the low strings that I use in a tune where I also sing in harmony with the guitar licks. So Jerry Reed & Roger Miller joined together."

Hi Heel Sneakers - "I use this pattern for straight forward blues in E like the hit song Hi-Heel Sneakers. We're talking 2-finger strumming here. Alternated by the odd fill with whatever fingers are needed. The thumb plays dirty on the bass strings and the index plays dirty on the trebles."

Keep On Gwine - "This instrumental is basically just two chords: A & E7. Essentially it's about breaks/fills and turnarounds. It's a challenge to keep up its lazy tempo and difficult not to speed-up. I do try to keep the two-step feel, but don't get all religious about it. It's very much New Orleans style in my mind, so plenty of Big Chief rolls here."

Lonesome Day Blues - "This is a blues classic originally played by a 30's blues pianist named Jesse James. I have combined it with the bass line of the 60's hit record by Joe Jones, You Talk Too Much.I must admit: I do like experimenting with combinations that may seem far apart. Probably due to my blues harp background, I opted here for the classic Hammy Nixon ending that found its way into so many 30's blues recordings."

Water Wagon Moan - "Here are a load of licks and patterns from various backgrounds. In this tune licks from George Van Eps via Pops Staple all the way up to Sly Stone come together over a R&B chord progression."

Weekend Boogie - "This is a type of guitar-boogie more or less in what I consider the Jerry Reed-style. Boogie patterns on a guitar seem to work best in E. Or with a dropped D tuning in A and sometimes even D. That way you'll have open bass strings and most of your left hand fingers free for the root and 4th degree chords."

Won't Be Long - "This pattern is used for various blues songs that can take a boogie bass. The tricky thing here is the thumb stumbles. You'll get all the different ones I mentioned in the concept section."

All of the performance studies are tabbed and notated for your practice, reference and study purposes.

Ready to get started? Grab your guitar and let's spice up our boogie and blues guitar with Ton van Bergeijk's Fingerstyle Blues and Boogie Guidebook!