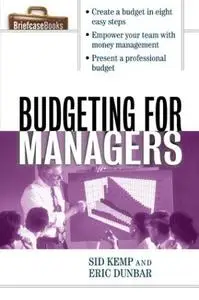 Sid Kemp, Eric Dunbar, «Budgeting for Managers (Paperback)»
McGraw-Hill | ISBN 0071391339 | 1 edition (January 30, 2003) | 180 Pages | 2.07 Mb
Provides an easy reference for busy managers needing a jump-start in developing a budget. Covers fundamental accounting terms, standard practices of finance and accounting, and managing money as a team. Describes the step-by-step process for readers to follow in developing, creating, and implementing their own budget. Softcover.
From the Back CoverEverything You Need to Prepare–and Work With–a Budget for Your Department or for Your Own Small Business
While managers may have vast experience dealing with people and experts in their field, they are often novices when it comes to managing money. Budgeting for Managers starts with the basics of a simple expense budget and gives you everything you need to know to create, present, and track a budget with a spreadsheet or accounting package. From definitions of fundamental accounting terms to techniques for working within your budget and managing money with your team, it will take you through the basics and beyond so that you can:
Negotiate for the money you need
Create budgets for growth or downsizing
Track your budget and measure work results throughout the year
Whether you work for a small business or a large company, Budgeting for Managers will help you succeed. Detailing the standard practices of finance and accounting as well as the best practices of today's successful entrepreneurs, this value-packed Briefcase Book will give you the knowledge and confidence you need to take charge of money, and work alone or with a team to bring success to both your company and your career.
Briefcase Books
are written specifically for today's busy manager. Each book features eye-catching icons, checklists, and sidebars to guide managers step-by-step through everyday workplace situations. Look for these innovative design features to help you navigate through each page:
[Key Terms icon]
Clear definitions of key accounting terms and jargon
[Smart Managing icon]
How accounting smarts can help your department–and career
[Tricks of the Trade icon]
How-to hints for efficient, effective use of accounting
[Mistake proofing icon]
Advice for minimizing errors when "working the numbers"
[Caution icon]
Warning signs of small accounting errors that could become disastrous
[For Example icon]
Examples from a variety of companies, large and small
[Tools icon]
Boxes where you'll find specific accounting tools and procedures
About the Authors
Sid Kemp
is a trainer, author, and consultant, and the head of Quality Technology & Instruction, Inc.
Eric Dunbar
is CFO of QTI and works with entrepreneurs to set up financial systems.