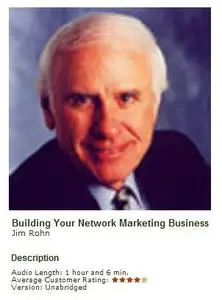 Jim Rohn
«Building Your Network Marketing Business AUDIO BOOK»
Made For Success, Inc. | (2005) | mp3 | 128 Kbps | 60.1 MB | English

Book Description
Subjects include life skills and leadership, common challenges to finding leads, and how to think like a wealthy person and become what you think.
The hottest single audio ever created in the Network Marketing Industry! Subjects include:
Awakening To The Opportunity
Profits Are Better Than Wages
The Magic of Part-Time
The Set of the Sail
The Law of Averages
The Law of Sowing & Reaping
Developing New Skills
Working Together: Let's Go Do It
Communication, Presentation & Testimonials
Deserve vs. Need
Your Skills Determine Your Future
Living A Good Life
Reviews
I received the new NM cassette by Jim Rohn….it's incredible. Everybody in the industry needs this… WOW! Jim's tape is OnFire, Blazing, and will burn up the industry when people find out about it. Thanks for sharing this piece of Gold with me.
Blessings,
Doug Firebaugh
As many of you know, I love anything by Jim Rohn… And I am writing because I've just finished listening to a new audiotape that Jim Rohn has just released for us!
"Building Your Networking Marketing Business" This is, without a doubt, "The Best of Rohn" on one 67-minute audiotape and quite possibly the best recording Jim's ever made. This masterpiece is loaded with great Network Marketing information–information every distributor needs to hear, over and still over again!
It has been said that the best gift you can give yourself–and everyone on your team–is your own personal development! Personally, I couldn't agree more.
All the best,
Michael Clouse
President
Nexera.com
Your new Network Marketing audio tape is the best I have heard in 24 years. It is authentic, very funny, accurate and powerful. Every aspiring and seasoned MLM leader must memorize it. Thank you for your life long comittment to our industry and way of life!
RICHARD BLISS BROOKE
High Performance People
About the Author
The man many consider to be America's Foremost Business Philosopher has been sharing his success principles and strategies for more than 39 years, with more than 6,000 audiences and over four million people worldwide! He is the author of over 25 books, audio, and video programs. Jim has been hailed over the years as one of the most influential thinkers of our time.