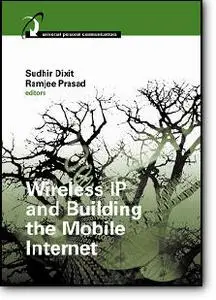 Sudhir Dixit (Editor), Ramjee Prasad (Editor), «Wireless IP and Building the Mobile Internet»
Artech House Publishers | ISBN 158053354X | 2002 Year | PDF | 14,41 Mb | 674 Pages
Handbook explains how to integrate the latest technologies in mobility, wireless, and the Internet to achieve workable, end-to-end solutions. Overviews the elements required to understand and develop future IP-based wireless multimedia communications and services. For practicing engineers and designers.
Password
:
www.AvaxHome.ru
Download from Rapidshare
Бонус | Bonus
My other uploaded eBooks (1400+) - links and descriptions
Другие книги, закаченные мной (более 1400) - ссылки и библиографические данные
version 5 (April 07 2006)
Download eBooks list from Mytempdir
Download eBooks list from Rapidshare
Please about the dead Rapidshare links send me the message
Пожалуйста отправляйте мне сообщение об убитых ссылках на Рапидшаре