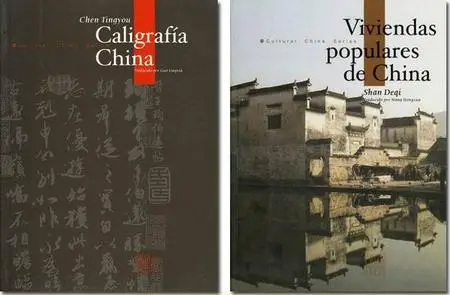 Chen Tingyou, Caligrafia China. Traducido por Guo Lingxia
Beijing | China Intercontinental Press | 2003 | ISBN 7-5085-0346-5 | PDF | 9+130 pp | 300 dpi | ~167 MB
Shan Deqi, Viviendas populares de China. Traducido por Wang Hongxun
Beijing | China Intercontinental Press | 2004 | ISBN 7-5085-0372-4 | PDF | 9+150 pp | 300 dpi | ~175 MB
Two out of the five volumes of the
Cultural China Series,
in Spanish. I will upload the other volumes in the next few days. As the books are lavishly illustrated, I have scanned it at 300 dpi - that's why the files are so large.
Dos de los cinco volúmenes de la
Cultural China Series
en castellano. Subiré también los otros volúmenes en unos pocos días. Visto que son ricamente ilustrados, los he escaneado a 300 dpi - es por eso que las fichas son tan largas.
Following - Queda para subir:
• Lou Qinxi,
Jardines de China
• Li Li,
Reliquias culturales de China
• Xu Chenghei,
La Ópera de Beijing
–––––
In the meantime I was requested to upload some pages of the first volume, to judge whether it is worth to download. Here you are some pages (the quality of the linked pages is 150 dpi for a quicker download, instead of the 300 dpi of the .pdf itself):
...