At request. Reupload from Mar, 14. Link was deleted.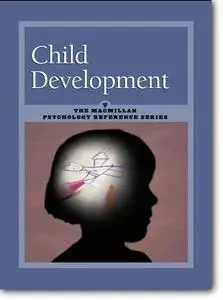 Neil J. Salkind (Editor), «Child Development»
MacMillan Reference Books | ISBN 0028656180 | 2001 Year | PDF | 6,28 Mb | 487 Pages
From Library Journal
This volume is the first in the publisher's new "Psychology Reference" series, which will offer single-volume overviews of psychological subdisciplines. The intended audience is "anyone who wants to know more about the field of child development," but the book will appeal primarily to nonspecialists. Contributed by professors of psychology and public health, physicians, clinical psychologists, and psychiatrists, and edited by Salkind (educational psychology and research, Univ. of Kansas), the 289 entries cover most of the expected topics cognitive development, day care, delinquency, mental retardation, etc. Short biographies of important developmental psychologists are included, and the appendixes cover a number of government-generated statistical tables and a short list of relevant web sites. The index is adequate. Notably missing are data on research methodology or statistical interpretation. On the whole, because topics only receive the most cursory treatment, the text would not be of much use to patrons in real-world situations. High school and lower-level college students might find the citations featured in each article useful for term-paper writing, but they could probably find similar material in any decent course text. Not a necessary purchase. Mary Ann Hughes, Neill P.L., Pullman, WA
Copyright 2002 Cahners Business Information, Inc.

From Booklist
This title launches the new Macmillan Psychology Reference Series. The volume has an alphabetical arrangement that includes four types of entries: overview articles of 3,000 words that serve as an in-depth look at specific topics (Cognitive development, Heredity versus environment, Parenting ); introductions to important topics of about 1,500 words each (Autism, Domestic violence, Resiliency); definitions of 150 words or so of terms that should be familiar to most people interested in child development (Cliques, Developmental norms, Standardized testing ); and biographies of around 400 words of leading people in child development (Apgar, Virginia; Ginott, Haim; Spock, Benjamin ). There are 289 articles in all.

The intended audience is described as "anyone who wants to know more about the field of child development," and the volume does a good job of having something for most reader groups. Each entry has a bibliography of items for further reading that are current and often include Web sites. The volume concludes with two appendixes: one containing a variety of statistical tables and a second with a list of Web resources. The index that follows the appendixes seems accurate and easy to use; main article page numbers are in bold type for ease of recognition, and table page numbers are in italics.

The nearest competitor would be The Gale Encyclopedia of Childhood and Adolescence (Gale, 1998), but the Macmillan volume is more focused on young children and contains more up-to-date Internet information. In general the two titles complement each other, and larger collections should have both. Child Development is a welcome addition to general information in this field and highly recommended for public and undergraduate libraries.