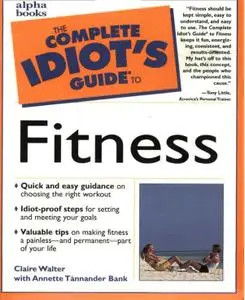 Claire Walter, Annette Bank Tannander
«Complete Idiot's Guide to Fitness»
Alpha | ISBN 978-0028636580, 0028636589 | (January 21, 2000) | 1 edition| pdf | 384 pages | 19.8 MB
Book Description
In this book you get:
* Advice on creating the right exercise program for you.
* Expert guidance on setting realistic goals.
* The essentials of a well-rounded regimen-from weight training to cardio workouts.
* Specialized programs you can customize to fit your needs and your lifestyle.
Discover quick and easy ways to:
* Draw up a fitness plan.
* Learn what to look for in a gym.
* Strengthen and tone with weights.
* Get your heart pumping with aerobic exercise.
* Stretch your way to a supple body.
* Work workouts into your busy schedule.
* Train safely to avoid injury.
* Eat right to support your commitment to fitness.
About the Author
Claire Walter
lives in Boulder, Colorado, where she is active in aerobics, Pilates, weight training, yoga, hiking, cycling, and skiing. She is a contributing editor to Skiing magazine, contributing writer to Inside Tracks newsletter, Shape, and Spa, and author of The Complete Idiot's Guide® to Skiing,
Annette Tannander Bank competed on the National Track and Field Team for Sweden for 15 years and was a two-time Olympian. She also competed in the heptathlon in the first World Championships for Track and Field in 1983. She is a personal trainer and massage therapist at the RallySport Health and Fitness Club in Boulder, Colorado.