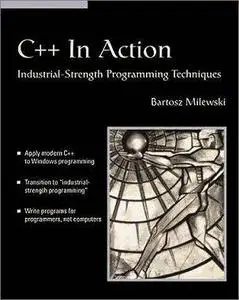 Bartosz Milewski | "C++ In Action"
Addison Wesley | Jun 2001 | ISBN: 0201699486 | English | PDF | 485 pages | 1.3 MB (for download)
Modern guide to using C++ langugage, including how to apply it to Windows programming. Shows how to write programs for programmers, not computers. The CD-ROM features all of the source code and projects from the text. Also includes a companion Web site. System requirements not listed. Softcover.
I center the presentation around various software projects. In each project I first describe a problem to be solved. Then I discuss what the program should do, what it should look like, and how it should react to user input. Based on that I build a scaffolding that captures the structure of the program without implementing its functionality. Finally, I implement the functionality, component by component.
In programming, as in life, there is never a single way to do something. That's why being able to argue about various solutions is extremely important. Programmers who don't know how to argue end up bitter and frustrated. I remember my own frustrations when faced with an argument like, "Because it's always been done like this." In this book I argue a lot. I try to find the pros and cons of every solution, and in many cases I manage to settle on something I consider "elegant." However, I never use elegance as an objective criterion. I believe that one can always uncover some very practical arguments that are hidden behind the subjective impression of "elegance." An elegant solution in many cases catches a very good abstraction or generalization. It results in code that is easy to understand, modify, and debug.
Finally, in this book I emphasize the human factor in programming. My credo is "programs are written for programmers, not computers." Programmers want to write better programs not in order to make them more understandable to computers, but to make them more readable to humans. Program maintenance is impossible without program understanding. This may seem like an obvious thing to say, but many programmers overlook this self-evident truth.Why You?
NOTE: link also contains source code for this book
Download here
password:
ganelon