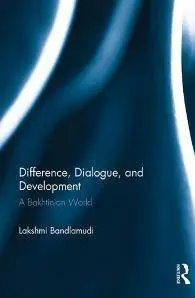 Difference, Dialogue, and Development : A Bakhtinian World
by Lakshmi Bandlamudi
English | 2016 | ISBN: 1138805920 | 160 Pages | PDF | 0.8 MB
Difference, Dialogue, and Development is an in-depth exploration of the collected works of Mikhail Bakhtin to find relevance of key concepts of dialogism for understanding various aspects of human development. Taking the reality of differences in the world as a given, Bandlamudi argues that such a reality necessitates dialogue, and actively responding to that necessity leads to development. The varied works of Bakhtin that span several decades passing through the most tumultuous period in Russian history, are brought under one banner of three D's – Difference, Dialogue and Development – and the composite features of the three D's emerge as leitmotifs in every chapter.