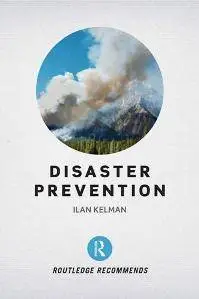 Disaster Prevention
by Ilan Kelman
English | 2016 | ISBN: 1317423089 | 232 Pages | PDF | 8.62 MB
"Theorisation of risk and vulnerability are included alongside the intersections with development, history, and governance – which, to a large degree, define root causes of disaster. The five-hundred year earthquake, selected as the closing chapter to this collection, exemplifies how disaster is created by permitting vulnerabilities to build up and perpetuate over centuries. These ever-present vulnerabilities are bypassed or ignored until the hazard strikes revealing how people have suffered them day-to-day over the long-term. If it were not an earthquake exposing the vulnerabilities, then it would be another hazard eventually. Disaster is prevented by accepting vulnerability as a long-term process tackled through long-term initiatives."
"This scoping precludes many topics. No piece focuses on specific hazards such as volcanoes, floods, or viruses or on specific hazard drivers such as climate change or the El Nino Southern Oscillation (ENSO) process. Instead, hazards and hazard drivers are on occasion used as case studies which the chapters place within wider vulnerability, risk, and disaster contexts. Another consequence is that many intriguing and thoughtful pieces were excluded because they covered almost exclusively a single, focused case study without considering wider perspectives or comparisons with other cases. Response, recovery, reconstruction, humanitarian operations, and emergency management also could not be incorporated into this volume."
"Instead, the key to the chapters presented is that they drive down into root causes of why disasters occur and what they mean to us, individually and collectively."