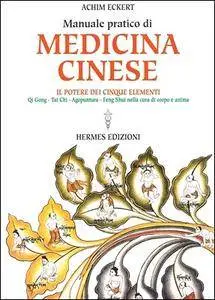 Achim Eckert - Manuale pratico di medicina cinese (2001)
Italian | 2001 | ISBN: 8879381873 | PDF | 176 pages | 3.3 MB
Per secoli i cinesi hanno usato le cinque forze elementali della natura - Legno, Fuoco, Terra, Metallo e Acqua - per rafforzare la mente e il corpo. L'approccio cinese alla salute, lungi dall'essere considerato una superstizione, ma piuttosto una seria disciplina basata sull'osservazione e sugli esperimenti, incontra crescente successo nel mondo occidentale. L'agopuntura, l'omeopatia e la medicina olistica oggi sono alternative largamente diffuse o valide integrazioni alla medicina occidentale. Manuale pratico di medicina cinese rende accessibile al lettore questa tradizione plurisecolare. Un libro che indica la strada a chi cerca semplicemente il giusto equilibrio yin-yang nella sua vita, e anche al medico che vuole trovare trattamenti alternativi per i propri pazienti.
Molte sono le rivelazioni sorprendenti che saranno confermate dall'esperienza del lettore:
- La cistifellea riflette l'educazione che ci è stata impartita.
- Il fegato influenza il nostro atteggiamento quotidiano.
- Il modo in cui respiriamo incide sulla personalità.
- Si può rafforzare il cuore contro lo stress.
- Una sana attività sessuale bilancia una sana aggressività.
Se questi e altri consigli contenuti nel libro saranno scrupolosamente seguiti, i miglioramenti alla nostra salute non tarderanno.
If you like this release please support Developer / Publisher and BUY it.
If you'll find that my links are dead please let me know through the Private Messages.
Please DO NOT MIRROR

&g... Blog Here <<<