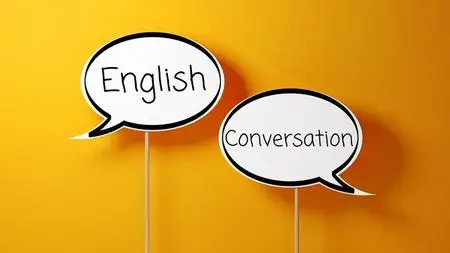 English Conversation - Improve Your English Speaking Skills (2021)
Video: .mp4 (1280x720, 30 fps(r)) | Audio: aac, 48000 Hz, 2ch | Size: 2.51 GB
Genre: eLearning Video | Duration: 47 lectures (3 hour, 47 mins) | Language: English
English Conversation For Everyone - Spoken English Course - Advanced English Speaking - Day to Day English Conversation
What you'll learn
In this course we learn how to speak like a native speaker
We learn how to minimize our accent and speak like a native
We learn how to structure sentences
We learn how to speak our mind in English instead of translating in our head from another language
We learn useful idioms and expressions that are commonly used
We learn street talk, including slangs and informal speech
We learn how to communicate better by knowing exactly what to enunciate
Description
Hi , my name is Shervin House. I am a best-selling instructor, and in this course I will be teaching you how to improve your English speaking skills.
Are you interested in improving your English speaking skills? Do you want to learn how to pronounce like a native? Do you wish to learn how to use idioms, slangs, and contractions in your conversations? In this course, I help you do all of that and more, by showing you step by step how you can improve in every one of these aspects of your speaking.
Vaideki: "Very expressive. I really enjoyed practicing along. Worth my time, good tutor, Who is "On the ball". Actions speak louder than words, Said that will try things taught in my daily conversations whenever possible."
We first start the course by fixing common pronunciation errors in order to help you transform your accent to as close to the native speakers as possible. We will then focus on learning important transition words in order to better sustain a conversation by connecting sentences and ideas together. As well as this, we will go over important idioms and expressions that you must know and be able to use on a day to day basis. We will learn the differences between formal and informal speech, as well as the fundementals of street talk. And last but certainly not least, I will help you transform the way you speak in English, so that instead of translating your thoughts from another language to English, you start thinking and thereby speaking in English.
MT: "The pronunciation module is very helpful. I have a hard time pronouncing the th sound and I really improved a lot after taking this course. Moreover, I really enjoy the idioms module which was very entertaining."
By the end of this course, you will not only learn key fundamentals that will massively improve your conversation skills, but I will also share with you how to get in the habit of always learning and improving by paying attention to your surroundings. Once you master this skill, you will be able to constantly improve your English with little effort and in a completely organic way for years to come, which will enable you to make real progress going forward.
Usman: "Very informative and descriptive. Good for improving basic english abilities"
What can you expect from this course?
A complete guide for those who are struggling to have a conversation in English
All the fundamentals covered, material such as idioms, expressions, slangs, etc.
Most Common mistakes addressed, specifically in English pronunciation.
Training lessons and "Repeat After Me" practices included in the course in order to make learning and practicing as easy as possible
Tips & tricks regarding how to start thinking in English rather than translating from your first language
All questions answered within 24 hours
And of course… 30 day money back guarantee! (No questions asked)
Who this course is for:
This course is for those who already speak a little English, but want to improve their conversation skills
For those who understand English, but have a tough time speaking
For those who want to learn proper pronunciation, useful idioms and expressions, and how to speak without hesitation