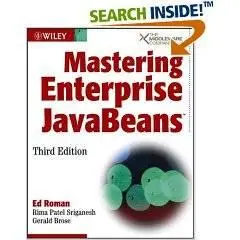 Rima Patel Sriganesh, Gerald Brose, Micah Silverman, Wiley Mastering Enterprise JavaBeans, 4th Edition
ISBN N/A | PDF | 2006 year | 722 pages | 9,17 MB
Published in July 2006, the best selling book Mastering EJB is now in its fourth edition and has been updated for EJB 3.0. This edition features chapters on session beans and message-driven beans, EJB-Java EE integration and advanced persistence concepts. In-depth coverage of the Java Persistence API and using POJO entitieswith EJB is also included. By reading this book, you will acquire a deep understanding of EJB 3.0.
NOTE: Book cover's 3rd Edition but the actual book's 4th Edition.