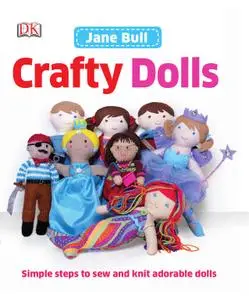 Crafty Dolls: Simple Steps to Sew and Knit Adorable Dolls by Jane Bull
English | July 1st, 2014 | ISBN: 1465419578 | 129 pages | True PDF | 32.51 MB
With a few hours and simple materials, even beginner crafters can make darling dolls with Jane Bull's help. In Crafty Dolls, Jane offers up original designs for dolls of all kinds that can be customized in hundreds of different ways. The Lottie Doll, a simple rag doll, can be adapted, dressed up, and accessorized to accommodate the hobbies and tastes of kids of all ages (what better holiday or birthday gift than a homemade doll!). The book also includes patterns for topsy-turvy dolls, tiny dolls, even a mermaid with glorious rainbow-yarn hair.