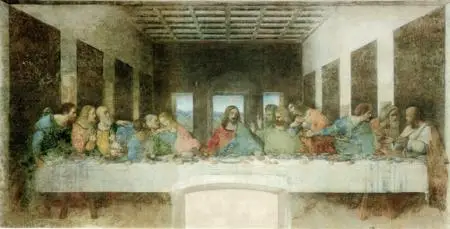 Bart D. Ehrman
The University of North Carolina at Chapel Hill
M.Div., Ph.D., Princeton Theological Seminary
Bart D. Ehrman is the James A. Gray Professor and Chair of the Department of Religious Studies at The University of North Carolina at Chapel Hill, where he has been teaching for over 15 years. He completed his undergraduate work at Wheaton College and received his Masters of Divinity and Ph.D. from Princeton Theological Seminary. Prior to taking his position at UNC, Professor Ehrman taught at Rutgers University…
We have commissioned two lectures on "Fact and Fiction in The Da Vinci Code " from biblical expert Professor Bart D. Ehrman of The University of North Carolina at Chapel Hill.
One of our most popular professors, Professor Ehrman (Ph.D., Princeton Theological Seminary) is a 15-year teaching veteran at UNC and winner of several teaching awards. He is the author of the leading textbook on the New Testament, as well as four courses for The Teaching Company.
The Da Vinci Code has remained on The New York Times bestseller list now for more than 50 weeks. Even though it is a work of fiction, it contains an ostensibly historical background involving early Christianity. But what is fact and what is fiction? Join Professor Ehrman to understand the historical evidence behind such topics as the formation of the Christian Bible, Jesus' relationship with Mary Magdalene, and the role of the emperor Constantine in shaping the religion of the historical Jesus.
http://anon.eastbaymediac.m7z.net/anon.eastbaymediac.m7z.net/teachingco/DaVinciCodeL1_96Kbps.mp3
http://anon.eastbaymediac.m7z.net/anon.eastbaymediac.m7z.net/teachingco/DaVinciCodeL2_96Kbps.mp3
My other posts
http://www.avaxhome.ws/ebooks/alexander_the_great_and_the_hellenistic_age_jeremy_mcinerney.html
http://www.avaxhome.ws/ebooks/english/god_and_mankind_comparitive_religions_robert_oden.html
http://www.avaxhome.ws/ebooks/english/augustine_philosopher_and_saint_phillip_cary.html
http://www.avaxhome.ws/ebooks/bonnie_wheeler_medieval_heroines_audio.html
http://www.avaxhome.ws/ebooks/brad_gregory_history_of_christianity_in_the_reformation_era.html
http://www.avaxhome.ws/ebooks/elizabeth_vandiver_classical_mythology.html
http://www.avaxhome.ws/ebooks/english/from_plato_to_post_modernism_louis_markos.html
http://www.avaxhome.ws/ebooks/english/luke_timothy_johnson_jesus_and_the_gospels.html
http://www.avaxhome.ws/ebooks/kenneth_harl_the_era_of_the_crusades.html
http://www.avaxhome.ws/ebooks/english/great_world_religions_islam_john_esposito.html
http://www.avaxhome.ws/ebooks/other_1492_ferdinand_isabella_and_the_making_of_an_empire.html
http://www.avaxhome.ws/ebooks/english/thomas_noble_foundations_of_western_civilization.html
http://www.avaxhome.ws/ebooks/english/phillip_cary_luther_gospel_law_and_reformation.html
http://www.avaxhome.ws/ebooks/the_apostle_paul_luke_timothy_johnson.html
http://www.avaxhome.ws/ebooks/louis_markos_the_life_and_writings_of_cs_lewis.html
http://www.avaxhome.ws/ebooks/michael_sugrue_plato__socrates__and_the_dialogues.html
http://www.avaxhome.ws/ebooks/michael_sugrue_the_bible_and_western_culture_.html
Going next:
After the New Testament - The Writings of the Apostolic Fathers
Discovery of Ancient Civilizations - Brian Fagan
Govind Sreenivasan - Europe And The Wars Of Religion
Great Ancient Civilizations Of Asia Minor - Kenneth Harl
Great Figures of the Old Testament Amy-Jill Levine
Great World Religions - Christianity Robert Oden
History of Ancient Egypt - Bob Brier
King Arthur And Chivalry Bonnie Wheeler
Philosophy and Religion in the West - Phillip Cary
The Terror of History - Mystics, Heretics, and Witches in the Western Tradition
Ancient Near Eastern Mythology - Shalom Goldman
Rome and The Barbarians - Kenneth W. Harl
Practical Philosophy - Greco-Roman Moralists
History Of Ancient Rome Garrett G Fagan
Great.World.Religions-Judaism.-.Isaiah.M.Gafni
James Hall - Philosophy Of Religion
Bob Brier - Great Pharaohs Of Ancient Egypt
Plato's Republic - David Roochnik
Americas Religious History - Patrick N Allitt
Patrick Allitt - Victorian Britain
David Roochnik - Introduction To Greek Philosophy
The High Middle Ages - Professor Philip Daileadeк
Kenneth Bartlett - Italian Renaissance
Jeremy Adams - Thomas Aquinas, The Angelic Doctor
History of England from the Tudors to the Stuarts - Robert Bucholz
William Cook - Francis of Assisi
Philip Daileader - The Early Middle Ages
Gary W Gallagher - American Civil War
History of the United States Part 1,2,3 Allen C. Guelzo
Teofilo Ruiz - Medieval Europe
History of Russia - From Peter the Great to Gorbachev - Mark Steinberg
The Odyssey Of Homer - Professor Elizabeth Vandiver
The Iliad Of Homer - Professor Elizabeth Vandiver
Herodotus, The Father Of History - Elizabeth Vandiver