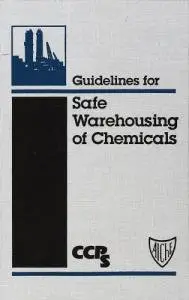 Guidelines for Safe Warehousing of Chemicals
Wiley-AIChE | ISBN 0816906599 | June 1998 | 170 Pages | PDF | 6,61 Mb
A comprehensive understanding of the potential dangers inherent in warehousing chemicals is the first step in managing the associated risks. Written by industry professionals for warehouse operators, designers, and all who are concerned with the safe warehousing of chemicals, this book offers a performance-based approach to such hazards as health effects, environmental pollution, fire, and explosion, and presents practical means to minimize the risk of these hazards to employees, the surrounding population, the environment, property, and business operations. These basic precepts can be used to evaluate the risks in initial or existing designs for warehousing facilities on a manufacturing site, for freestanding offsite buildings, and for strictly chemical or mixed-use storage. Each of the book's ten chapters has a list of references and suggestions for further reading.