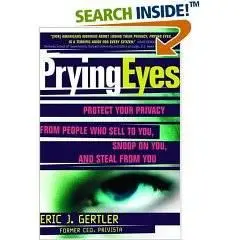 Prying Eyes : Protect Your Privacy From People Who Sell to You, Snoop on You, or Steal From You
English / ISBN: 0375720936 / PDF / 448 pages / 716 Mb
You leave an electronic trail every time you use a credit card, rent a DVD, mail in a rebate form, go to the doctor, open a bank account, or surf the Internet at home and at work.
News stories about identity theft, anti-terrorist legislation, cyber-stalking, marketing databases, and employer surveillance practices are evidence that your privacy is violated more and more every day. Using examples from real-life situations, Prying Eyes reveals how, often without your knowledge, people use your personal information to sell to you, snoop on you, and steal from you.
Eric Gertler reveals how to minimize your exposure in every facet of life–at home, at the office, on vacation, at the store, at the doctor's office, online, and on your cell phone. Beyond reporting and speculation, Prying Eyes will empower you to take charge of your personal information before someone else does.
You will learn:
·How information about your bank account, credit, and purchases is tracked, stored, and accessed–and how to limit your exposure.
·How to protect yourself from identity theft–and how to recover if you've been a victim.
·Risks to your privacy at work–why it is important to separate your personal life from your business life.
·Threats to your medical files–who has access to them how they're commonly mishandled, and how to prevent information from getting into the wrong hands.
Rapidshare
http://rapidshare.de/files/36276133/Gertler__Eric_J._-_Prying_Eyes__2004_.rar
Please no mirror