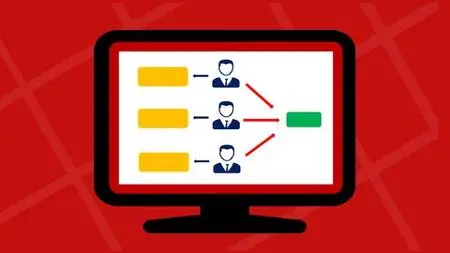 Gino's Java Constructor & Static for Certification in 1 hour
Duration: 45m | .MP4 1280x720, 30 fps(r) | AAC, 44100 Hz, 2ch | 280 MB
Genre: eLearning | Language: English
Java 11 Certification Exam 1z0819 - Learn tricky details about confusing topics of constructors, static and non-static
What you'll learn
static fields and instance fields (logically and practically)
static vs instance methods? When to use? + Design tips for interviews
Tricky Rules - Invoking static and instance methods
Accessing static and instance variables
Constructors (Intro + tricky details)
Parameterized constructors + tricky details
Type Promotion with constructors
Constructor chaining - Wrong way and Right way
Requirements
A laptop or computer.
Bare minimum. Knowing what is a java class, object and functions is more than enough.
Description
Are you preparing for Oracle's latest Java Certification Exam 1Z0819?
Are you looking for a genuine, up-to-date course relevant in 2021, that provides simple & easy to digest lessons on:
constructors
static and non static ?
This course dives deep into understanding them in great detail, from certification exam's perspective.
Get done with these topics in less than 1 hour.
We'll cover:
static fields and instance fields (logically and practically)
static vs instance methods? When to use? + Design tips for interviews
Tricky Rules - Invoking static and instance methods
Accessing static and instance variables
Constructors (Intro + tricky details)
Parameterized constructors + tricky details
Type Promotion with constructors
Constructor chaining - Wrong way and Right way
1 live coding session to help you reinforce what we learnt.
By the end of this course,
you'll feel confident on how these concepts work
You can continue preparing for other topics on the certification exam. No need to study these topics anywhere else once you take this course.
No more boring and uninteresting tutorials that add no value.
Save your time with a quick but in-depth curriculum from certification exam's perspective.
Enroll now & get access to our student exclusive facebook group where we answer questions by students.
No need to study this topic from any other course or certification book, once you take this course.
Fun challenge for you:
By the end of this course, if you can understand the meaning of this course's image, congratulations ! ;)
Who this course is for:
Beginners wanting to gain strong foundation on constructors and how to use static keyword correctly
Intermediate/Advanced programmers looking to quickly revisit these topics from certification exam perspective
More Info