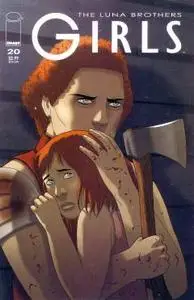 Everything will make sense in the end.
Everything will be beautiful.
Thats the promise the awesome Luna Brothers hint in this issue. I won't reveal more - except that I bet you will slam your thighs uncomfortablly shut by the end of this one.
Just check out that resolve in Nancy's menacing eyes . . .
Download:
http://www.ftp2share.com/file/...6___DarthScanner-DCP_.cbr.html
or
http://rapidshare.com/files/78...__2006___DarthScanner-DCP_.cbr
It's also been updated into the original Rapidshare folder along with the rest of entire series -
http://rapidshare.com/users/6792K7
Latecomers can check out the original post review along with the entire series at :
http://www.avaxhome.ws/magazines/moongirls.html
This time around, I'd like to pay tribute to the original book scanners like Darthscanner, Bonzobutch, Spellboro and so many more from DCP. These are the guys who pay for it, these are the guys who tear their issues apart to scan it. These are the guys who sweat it out for all. Thanks is a small word.
I've been a bit preoccupied lately (Including another forthcoming operation) and haven't posted much. I've got some good stuff in the offing and hope to post more soon.
As usual, I'd prefer downloads from my links