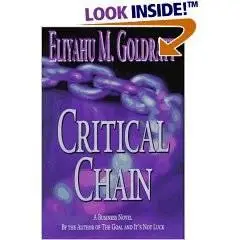 Eliyahu M. Goldratt, «Critical Chain». ISBN: 0884271536
North River Press | 1997 Year | PDF | 0.53 Mb | 103 Pages
Harvard Business Review
"This book (Critical Chain) is valuable to two main audiences: project managers and senior managers… useful for dealing with one of the most difficult and pressing management challenges: developing highly innovative new products."
Harvard Business Review
"Eli Goldratt essentially adds a discipline for understanding what drives project performance and therefore what the focus of a project manager's attention should be."
James R. Holt, Professor of Engineering Management, Washington State University
"Critical Chain's powerful yet simple techniques…solve project management's toughest problems."
World Aero-Engine Review
"Critical Chain will revolutionize project management."
Book Description
Powerful yet simple techniques to solve project management's toughest problems. This book teaches companies to drastically cut project development times resulting in early completion within budget and without compromising quality or specifications.
About the Author
One of the world's most sought after business leaders - author and educator, Dr. Eli Goldratt. Eli Goldratt has been described by Fortune Magazine as a "guru to industry" and by Business Week as a "genius". His charismatic, stimulating, yet sometimes unconventional style has captured the attention of audiences throughout the world. Eli is a true thinker who provokes others to think.
Eli Goldratt is the creator of the Theory of Constraints (TOC) and is the author of 8 books, including the business best sellers The Goal, It's Not Luck, and Critical Chain. Goldratt's Theory of Constraints is used by thousands of companies, and is taught in hundreds of colleges, universities, and business schools. His books have sold over 3 million copies and have been translated into 23 languages. Goldratt's fascinating work as an author, educator and business pioneer has resulted in the promulgation of TOC into many facets of society and has transformed management thinking throughout the world.
Main:
http://rapidshare.de/files/24072795/E.M._Goldratt_-_Critical_Chain.pdf
Portrait:
http://rapidshare.de/files/24072967/EMGoldratt_CriticalChain_Portrait.jpg
Enjoy!