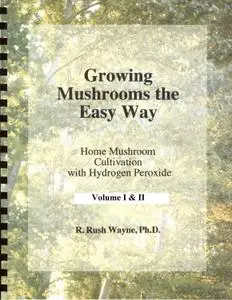 Home Mushroom Cultivation with Hydrogen peroxyde
R.Rush Wayne Ph.D. | no ISBN | 1996-2001 | PDF | 60 pages
An instruction manual in two volumes based on the use of peroxide in mushroom cultivation. An entirely new approach to personal mushroom growing and non-Sterile Mushroom Cultivation.
Mushroom growing - a great pastime, but…
Mushroom growing has the potential to be a fun and fascinating pastime. Our forests have provided many
species of fungi that are both beautiful and delicious, and learning to cultivate them can revive our connection to nature and the earth. But if we have to buy a lot of equipment to sterilize substrate and clean the air of contaminants, growing mushrooms can lose its romance. And it can get absurdly complicated when cultures keep spoiling, despite our most elaborate precautions.
Volume I of Growing Mushrooms the Easy Way is both an indispensable introduction to the use of hydrogen peroxide in mushroom culture and a general primer on basic mushroom growing. It describes techniques for preparing mushroom cultures without air filtration or sterile facilities, and without autoclaves or pressure cooking of bulk substrate.
Volume I :
# how peroxide works
# issues of stability and safety with peroxide
# how to measure peroxide concentration
# the problem of peroxide-decomposing enzymes in substrate material
# how to choose peroxide-compatible substrates and supplements
# an introduction to some commonly cultivated mushrooms
# preparing and maintaining agar cultures
# making grain spawn
# making "Ten Minute Spawn" (a quick sawdust-based, steamed spawn medium)
# a boiling water/peroxide method for preparing bulk wood pellet fuel substrate
# seasonal planning
# indoor vs. outdoor growing
# harvesting mushrooms
# troubleshooting
Volume II:
# collecting and germinating mushroom spores
# an alternative to agar medium for mycelial culture and storage
# screw-cap tubes (slants) as an alternative to Petri dish culture
# a quick beer-based agar medium
# re-using disposable Petri dishes
# preparing "Ten Minute" sawdust spawn in plastic bags
# preparing "Ten Minute" grain spawn with "instant rice."
# inoculating straw without spawn
# sending mycelial cultures in the mail
# preparing raw wood chips with peroxide
http://rapidshare.de/files/19789017/Growing_Mushrooms.rar.html
No Pass