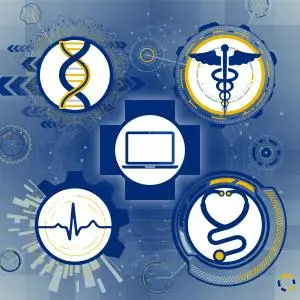 Coursera - Health Informatics Specialization by Johns Hopkins University
Video: .mp4 (1280x720) | Audio: AAC, 44100 kHz, 2ch | Size: 5.66 Gb | Materials: PDF
Genre: eLearning Video | Duration: 23h 14m | Language: English
Learn To Tackle Health IT & Big Data the Right Way. Become a leader in the dynamic and rapidly growing field of health informatics.
The Social and Technical Context of Health Informatics
Improving health and healthcare institutions requires understanding of data and creation of interventions at the many levels at which health IT interact and affect the institution. These levels range from the external "world" in which the institution operates down to the specific technologies. Data scientists find that, when they aim at implementing their models in practice, it is the "socio" components that are both novel to them and mission critical to success. At the end of this course, students will be able to make a quick assessment of a health informatics problem—or a proposed solution—and to determine what is missing and what more needs to be learned.
Who Is This Class For? Physicians, nurses, pharmacists, social workers, and other allied health professionals interested in expanding their understanding of digital health, big data, health information systems, and the unintended consequences of disruptive innovation in the healthcare system. The course is also aimed at those with technical, engineering, or analytics backgrounds who want to understand the nuances of those topics when it comes to healthcare.
Leading Change in Health Informatics
Do you dream of being a CMIO or a Senior Director of Clinical Informatics? If you are aiming to rise up in the ranks in your health system or looking to pivot your career in the direction of big data and health IT, this course is made for you. You'll hear from experts at Johns Hopkins about their experiences harnessing the power of big data in healthcare, improving EHR adoption, and separating out the hope vs hype when it comes to digital medicine.
Whether you're a nurse, pharmacist, physician, other allied health professional or come from a non-clinical background–you know that Health Informatics skills are in demand. This newly launched 5-course specialization by JohnsHopkins faculty members provides a solid foundation for anyone wanting to become a leader in one of the hottest fields in healthcare. As health informaticians, we need to be very clear in our understanding of the current state (as-is), the future state (to-be) and any unintended consequences that can result from our interventions. Prior to introducing large scale change, we need to assess whether a healthcare organization is truly ready for change. This involves taking into account an organization's current culture and values. Successfully leading change through health informatics also requires strategic planning and careful financial considerations. Proper workflow redesign and a clear change management strategy are of utmost importance when introducing new technologies and in ensuring their successful adoption and proper use. By the end of this course, students will become familiar with examples of successful and failed attempts at change in health informatics, and the reasons for each. Students will be armed with tools to help optimize their chances for successfully leading change in their respective organizations.
The Outcomes and Interventions of Health Informatics
For clinical data science to be effective in healthcare—to achieve the outcomes desired—it must translate into decision support of some sort, either at the patient, clinician, or manager level. By the end of this course, students will be able to articulate the need for an intervention, to right size it, to choose the appropriate technology, to describe how knowledge should be obtained, and to design a monitoring plan.
The Data Science of Health Informatics
Health data are notable for how many types there are, how complex they are, and how serious it is to get them straight. These data are used for treatment of the patient from whom they derive, but also for other uses. Examples of such secondary use of health data include population health (e.g., who requires more attention), research (e.g., which drug is more effective in practice), quality (e.g., is the institution meeting benchmarks), and translational research (e.g., are new technologies being applied appropriately). By the end of this course, students will recognize the different types of health and healthcare data, will articulate a coherent and complete question, will interpret queries designed for secondary use of EHR data, and will interpret the results of those queries.
Culminating Project in Health Informatics
This capstone course in the Health Informatics Specialization will allow learners to create a comprehensive plan for an informatics intervention of their choosing, and that will demonstrate to current or future employers the new skills obtained through the completion of this series of five courses in Health Informatics.