IT Essentials I: PC Hardware And Software sponsored by Hewlett-Packard Company, introduces students to information technology and data communication.

This 70-hour, hands-on, lab-oriented course stresses laboratory safety and working effectively in a group environment. Students will learn how to build a computer and install different versions of the Windows operating system. This course will help prepare students for exciting career opportunities in computer technology.

Upon successful completion of this course, students will receive a Certificate of Completion for IT Essentials I: PC Hardware and Software. Acquired competencies include:

- Building a computer and installation of the motherboard, floppy and hard drives, CD-ROM, and video cards.
- Installing and managing Windows operating systems.
- Adding peripherals and multimedia capabilities.
- Knowledge of local area network architecture, networking protocols and the OSI Model, and TCP/IP utilities.
- Connecting the computer to a local area network and to the Internet.

In addition to basic networking concepts, the functions and configurations of a network are also covered.*NOTE:
If this window appears when browses document, click on
setting
button (figure 1):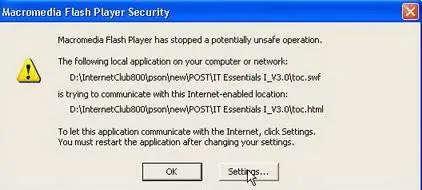 figure 1
It will link you to macromedia's site (
http://www.macromedia.com/support/documentation/en/flashplayer/help/settings_manager04.html
) , then click on
Always allow
button (figure 2).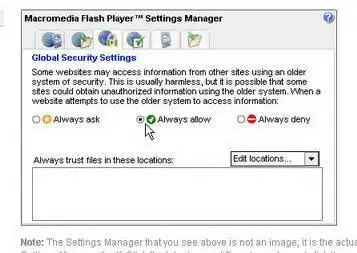 figure 2
Finally, close all windows, open document again and study.
Have fun.
Down:
http://rapidshare.de/files/24910353/IT_Essentials_I_V3.0.part1.rar
http://rapidshare.de/files/24914663/IT_Essentials_I_V3.0.part2.rar
http://rapidshare.de/files/24995641/IT_Essentials_I_V3.0.part3.rar
Pass:
soncao