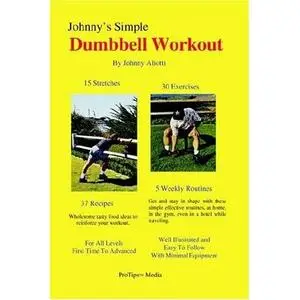 Johnny Aliotti is a certified personal trainer, fitness expert, and competitive body builder, still in fantastic shape even in his fifties. He now offers his comprehensive guide to staying fit and healthy by working out with dumbbells. In addition to the workout techniques, the book includes his favorite fitness oriented recipes. For all levels, first time to advanced, Johnny takes you through it at your own pace.
- 15 Illustrated Stretches: Learn how to stretch correctly for maximum benefit before, during, and after your workout.
- 5 Weekly Routines for Multiple Levels: Get and stay in shape the right way with these simple effective routines, at home, in the gym, or even in a hotel while traveling. Each routine is referenced to the illustrated exercises.
- 30 Illustrated Dumbbell Exercises: Easy to follow with minimal equipment.
- 37 Recipes: Wholesome tasty food ideas to reinforce your workout.
File Type:
PDF
ISBN:
0974060003
Author:
Johnny Aliotti
Size:
3.01MB
Pages:
86
Password
stockholm
http://rapidshare.de/files/16294144/0974060003.rar