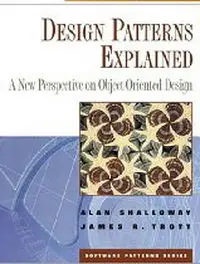 Design Patterns Explained: A New Perspective on Object-Oriented Design
Addison-Wesley Professional | 308 pages | 2007 | ISBN: 0201715945 | PDF | 7.2 mb
From the Inside Flap
Should you buy the second edition if you already own the first?
The answer, of course, is yes! Let us tell you why.
Since the first edition was written, we have learned so much more about design patterns, including:
· How to use commonality and variability analysis to design application architectures
· How design patterns relate to and actually facilitate eXtreme Programming (XP) and Agile Development
· How testing is a first-principle of quality coding
· Why the use of factories to instantiate and manage objects is critical
· Which set of patterns is essential for students to help them learn how to think in patterns
All of these topics are covered in this book. We have deepened and clarified what we had before and we have added some new content that you will find very helpful, including:
· Chapter 15: Commonality and Variability Analysis
· Chapter 20: Lessons From Design Patterns: Factories
· Chapter 21: The Object-Pool Pattern (this is a pattern not covered by the Gang of Four)
· Chapter 22: Factories Summarized
We have changed the order in which we present some of the patterns. This sequence is more helpful for the students in our courses as they learn the ideas behind patterns.
We have touched every chapter, incorporating the feedback we have received from our many readers over these last three years.
And, to help students, we have created study questions for each chapter (with answers on the books companion website).
We can honestly say this is one of the few second editions that is definitely worth buying even if you have the first one.
We would love to hear what you think.