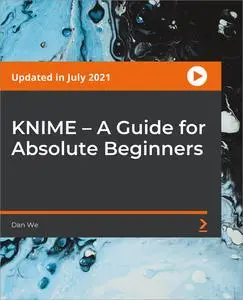 KNIME – A Guide for Absolute Beginners
.MKV, AVC, 1920x1080, 30 fps | English, AAC, 2 Ch | 2h 31m | 2.09 GB
Instructor: Dan We
What you'll learn
New job opportunities knock on your door
You can easily prepare your data in advance to visualize it later in tools like Tableau or Power BI (we cover the visualization part briefly as well)
You extend your data analytics knowledge
You can do simple to advanced ETL (Extraction - Transformation - Load) without coding
You can clean and shape your data the way you need it
You learn how to use Machine Learning / AI predictive analytics capabilites of knime (an introduction)
All this is done by solving a funny and interesting case study
Description
KNIME Masterclass - a crashcourse for beginners
A case study the fun and easy way! A great new Data Prep Course awaits you.
Hello everyone hope you are doing fine.
Let's face it. Data cleaning is always a big hassle, especially if we are short on time and want to deliver crucial data analysis insights to our audience.
But how can we be more efficient in the ETL/ Data Prep process? How can this process be more FUN?
Meet KNIME!
A great tool which comes to our rescue. KNIME allows us to do data preparation / data cleaning in a very appealing drag and drop interface. (No coding experience is required yet it still allows us if we want to use languages like R, Python or Java. So, we can code if we want but don't have to!). The flexibility of KNIME makes that happen.
And the best: The Desktop version is free!
So, is it worth it to dive deeper into KNIME? ABSOLUTELY! And in this course that is exactly what we do. We start from scratch (I do not expect you to have prior knowledge) and learn KNIME in a (hopefully) very fun and easy way by going through a case study together.
This is a hands-on course, so I expect you to "data prep" along with me. After finishing our data prep we briefly! cover the visualization part where we visualize our prepared dataset in Tableau and in Power BI Desktop (yes we briefly cover both tools and it is up to you which you prefer!)
Finally, we also briefly cover the predictive analytics capabilities of KNIME and see how easy Machine Learning in KNIME can be (again a brief introduction and no coding required!)
If that does not sound like fun, then what? So, if that is interesting to you then let's get started!