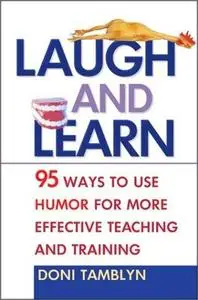 Laugh and Learn: 95 Ways to Use Humor for More Effective Teaching and Training
by Doni Tamblyn
American Management Association | ISBN: 0814407455 | PDF | 224 Pages | 1.5 MB
We may not all be born comedians, but most people are naturally humorous, says Doni Tamblyn, comic-turned-trainer and president of HumorRules LLC. Tamblyn's humorous techniques have brought serious results to clients such as Chevron, Wells Fargo, AstraZeneca, and other Fortune 500 companies, universities, and government entities. Now she offers these techniques to you in one intriguing, information-packed, and very funny book!
Combining the latest brain studies and humor research with the author's own 23 years of experience in comedy and corporate training, LAUGH AND LEARN is a fascinating look at what makes learners perk up, pay attention, and remember. It's the first book that 1) explains the research that shows how humor can make information more memorable, 2) teaches communicators how to be funny without relying on joke-telling or novelty store items, and 3) gives specific, light-touch techniques that can be used by virtually anyone who seeks to present their message more effectively. This book will help teaching professionals to:
* Attract more learners to their programs
* Get and hold learners' attention throughout the learning process
* Present curriculum memorably
* Positively affect learner attitudes
* Go beyond teaching facts, to encourage and model creative thinking (a much-sought ability in today's organizations!)
* Improve performance scores both inside and outside of the classroom
* Enhance their own reputations as contributors to their organizations' bottom line
* Get "buy-in" from organizational decision-makers
Moreover, LAUGH AND LEARN is a true page-turner! Rich in insights, research data, showbiz secrets, and backstage anecdotes, it is a book that will be read and reread. From the very first chapter, readers will begin to see that professional development can actually be fun!
Wouldn't you like your learners to say the same?