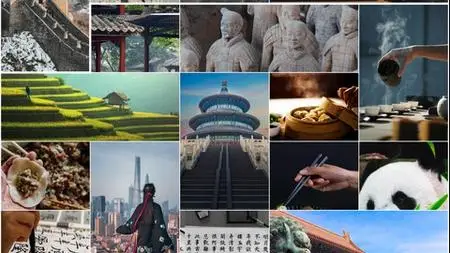 Learning Chinese Mandarin From 0 to Native speaker(HSK1~4)
Genre: eLearning | MP4 | Video: h264, 1280x720 | Audio: AAC, 44.1 KHz
Language: English | Size: 2.57 GB | Duration: 3h 21m
Learn Chinese form Chinese ,Speak Chinese with real Chinese.
What you'll learn
Basic knowledge of pinyin in Mandarin
we will learn numbers, months, and family members, this part will cover numbers/transport/time/weather
Learning some small talk ,which based on the daily life in 2021, not 10 year ago.
Have the chance communicate with Chinese native speaker
more than 1000 pages of PPT designed carefully.
Description
The Learning Chinese Mandarin From 0 to Native speaker course that will teach you native Chinese .
Compared to other courses, we had these advantages:
①、We believed that Chinese should be lived rather than taught, then we ran a small chatting room ,where you can communicate with the real Chinese friends directly (by Email).
②、Those friends are friendly ,and are always ready to help you~
Why should you learning Chinese from me ?
①、I love learning ,learning everything interesting, and I want to put a spark in every one's heart so that you guys can make a fire to learn Chinese, learning everything through this spark.
②、I am not a teacher, instead I will be your friend.
Different from other teachers, whose main job are teaching Chinese, for me , I worked for a Fortune Global 500 company after my graduation.
③、I'm happy to have the chance teach people that came from different countries all round the world ,
meanwhile, I'm not the only one, I ran a small team waiting there for u , which means after joining us, you can communicate with people from Mainland China directly, yeah, they are real person, and they are ready to teach you all the time, but for justice ,the quick response code is only open for people who bought this course.
So a proof of bought is a must when sending me email.
So, don't hesitate to buy this course!
Who this course is for:
Anyone who wants to start learning Chinese from 0