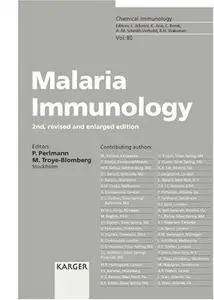 Malaria Immunology, 2nd Rev&Ex edition
edited by Peter Perlmann, Marita Troye-Blomberg
S. Karger | ISBN 3805573766 | 2002 | PDF | 406 pages | 2.4 MB
Despite extensive efforts to control it, malaria is still one of the most devastating infectious diseases worldwide. This book, now in its second edition, provides a broad and up-to-date overview of the rapidly expanding field of malaria immunology and its importance in the control of this disease.
The first section deals with the malaria parasite and its interactions with both the vertebrate host and the mosquitoes which transmit the disease. In the second part, the mechanisms of immunity and their regulation by environmental and genetic factors are discussed. Finally, this volume contains several chapters on malaria vaccine development, describing the application of the most recent vaccine technologies as well as ongoing and planned vaccine trials.