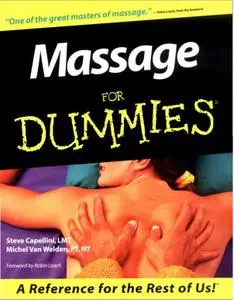 Steve Capellini, «Massage for Dummies»
Hungry Minds Inc. | ISBN 0764551728 | (1999) | 1 edition| pdf | 354 pages | 29.1 MB
Book Description
All the basic techniques of quick, easy massage to relieve tension and provide enjoyment are outlined in this Running Press Miniature Edition, from Swedish and Shiatsu to sports and self-massage. Covers both health benefits and guidelines, with special techniques for pets and family members, and tips for massage on the go, at work, and in the bedroom.
From the Back Cover
"One of the great masters of massage." —Robin Leach, from the foreword "Everything you need to know about giving and receiving a massage." — Jack Canfield, coauthor, Chicken Soup for the Soul "I recommend this book for everyone who would like to make the art of massage a part of their lives." — John Gray, author of Men Are from Mars, Women Are from Venus
Includes 150 hands-on photos and illustrations!
Knead your way to relaxation and wellness with this easy guide to the art of massage. From Swedish to Shiatsu, sports massage to self-massage, expert authors Steve Capellini and Michel Van Welden show you move by move how to harness the healing power of touch.
Discover how to: Master massage basics Give (and receive) a therapeutic massage Soothe away stress with self-massage Alleviate sports aches and pains Get intimate with massage for lovers
Get smart!
www.dummies.com
Register to win cool prizes Browse exclusive articles and excerpts Get a free Dummies Daily™ e-mail newsletter Chat with authors and preview other books Talk to us, ask questions, get answers