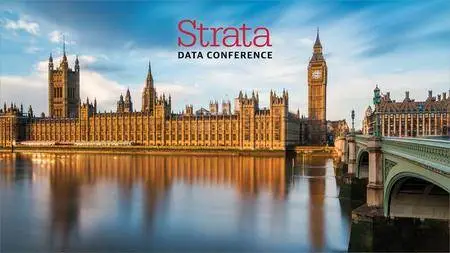 Strata Data Conference 2017 - London, United Kingdom
MP4 | Video: AVC 1280x720 | Audio: AAC 44KHz 2ch | Duration: 1 Hour 12M | 1.47 GB
Genre: eLearning | Language: English
Strata is the largest data conference series in the world; the place where cutting-edge science and new business fundamentals intersect—and merge. This video compilation gives you total access to each of the 112 sessions, 19 tutorials, and 16 keynotes delivered at Strata London 2017. Broad and deep as the Thames itself, you'll hear presentations on stream processing and analytics, deep learning, big data and the Cloud, data-driven business management, and cybersecurity. You'll enjoy overviews of technologies and platforms like Microsoft's Azure HDInsight, O'Reilly's Oriole, BMC's Control-M, Google's TensorFlow, AWS Lambda, Twitter's Heron, Intel's BigDL, as well as talks on almost every Apache ecosystem tool available today, including Arrow, Beam, Cassandra, Druid, Flink, Flume, HAWQ, Hive, Impala, Kafka, Kinetica, Kudu, MXNet, Presto, Spark, Spark ML, Spark Streaming, and Spark SQL.
But Strata is more than topics and technologies, it's the people who speak: Big Data visionaries like Luke Han (CEO, Kyligence) on Apache Kylin use cases in China; Reynold Xin (Chief Architect, Databricks) on Spark's API and engine evolutions; Eric Tilenius (CEO, Blue Talon) on the EU's GDPR's potential for better data security; Duncan Ross (Director, TES Global) on doing good with big data; M. C. Srivas (Chief Data Architect, Uber) on the real-time intelligence that drives Uber; and Anthony Goldbloom (CEO, Kaggle) on lessons learned from the million(!) data scientists who participate in Kaggle's machine learning competitions. This compilation gives you a front row view to each of these speakers and to all of the 211 data leaders who spoke at Strata London 2017. Highlights include:
Strata Business Summit — A set of 36 sessions specifically curated for the senior-level business executive and strategist, the Summit is the missing MBA for data-driven business. It includes clear-eyed guidance from Tim O'Reilly (Founder, O'Reilly Media) on the future of AI as a jobs generator; every Executive Briefing; five tutorials (an intro to data architecture's core principles, a how-to on developing a modern enterprise data strategy, and so on); sessions on data lakes, interactive visualizations, and natural language generation; overviews of Spark, Docker, Containers, and Notebooks; and a wealth of big data and reg tech case studies from Cox Automotive, EasyJet, Barclays, Santander, Transport for London, and more.
Executive Briefings: six high-level overviews on data as the driver of business value, including hard-nosed evaluations of cloud strategies by Manuel Sevilla (CTO, Capgemini); Carme Artigas (Synergic Partners/CEOE Innovation Board) on proven tactics for accelerating big data adoption; Nicolaus Henke (Senior Partner, McKinsey) on what CEO's really think about AI; and an insider's look at EU General Data Protection Regulation's privacy obligations by Aurélie Pols (Co-Chair, IEEE Data Privacy Process).
Hardcore Data Science Day: eight hours on advanced techniques in deep learning, NLP, and algorithm design with sessions on Microsoft's LightGBM, Google's CausalImpact, Intel's BigDL, Toupee, and more from data science leaders like David Barber (UCL) and Angie Ma (ASI Data Science).
19 tutorials: long form sessions including Spark Camp, the all-day intro to Apache Sparks core concepts and machine learning library; Anima Anandkumar (AWS) on distributed deep learning with Apache MXNet; Tim Berglund (Confluent) on building real-time streaming pipelines with Kafka Connect and Kafka Streams; Bargava Subramanian (Red Hat) on interactive data visualizations using Visdown; Aimee Gott (Mango Solutions) on scaling R data analysis with Spark and sparklyr; and four senior engineers from Cloudera on deploying and managing Hive, Spark, and Impala in the public cloud.
39 Data Science & Advanced Analytics Sessions: covering topics like the state of TensorFlow in 2017 by Sherry Moore (Google Brain Team); deep learning in day- to-day practice by Mikio Braun (Zalando SE); and What "50 Years of Data Science" leaves out—a practical, balanced view of what building data science capability means today by Sean Owen (Cloudera London).
23 Data Engineering and Architecture Sessions: illuminating solutions from data pros like Jacques Nadeau (Dremio/Apache Drill PMC) on creating virtual data lakes with Apache Arrow; John Akred and Stephen O'Sullivan (Silicon Valley Data Science) on architecting a data platform; and Tyler Akidau (Google) on realizing the promise of portability with Apache Beam.