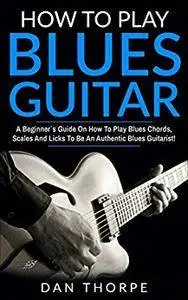 How To Play Blues Guitar: A Beginner`s Guide On How To Play Blues Chords, Scales And Licks To Be An Authentic Blues Guitarist! (Guitar Domination Book 2)
English | 2017 | ASIN: B0725PPJQH | 229 pages | PDF + EPUB | 3.21 Mb
Dan Thorpe's straightforward no-nonsense blues book will get you playing authentic and awesome blues guitar right from the off. If you play acoustic or electric, it doesn`t matter as this book has been purposely designed for the wannabe or struggling blues guitarist who plays either.
Dan`s books have gotten lots of critical acclaim and have received 100`s of 5-star reviews.
If you want to learn this stunning style of music and have tried before but found it either too hard or you just didn`t know what to do, then this book is for YOU.
The trouble is, even though blues is a super popular genre, it is NOT taught very well by most guitar teachers.
They tend to focus on making it super simple to the point it no longer sounds like an authentic blues (and is quite frankly boring!) or they teach you a lot of unnecessary stuff that is just too hard to learn and even harder to put together.
I have studied a lot of blues, learned lots of songs and styles from the greatest players so you don`t have to. No more searching on the net – a solid, effective and concrete plan for learning the blues is here.
In the book, you will learn from the ground up, where I take you from not knowing anything about the blues all the way to playing a downright awesome piece that will impress even the most hard-nosed blues aficionados!
…And, I do it in a specific, step by step and fun way!
The book has been carefully crafted and structured so it feels like you are sitting in a lesson with me myself. This is done via the unique `Let's Jam` chapters.
You will get an authentic taste of what it feels like to be watching the likes of Eric Clapton, Jeff Beck, B.B. King, Buddy Guy and the rest all jamming a 12 bar blues on stage – only you will be jamming too!
Play rhythm and lead at the same time – yes, ANYONE can do it when shown exactly how (and it sounds awesome).
* Exactly how to get started with the blues
* Easy blues chords to get started with (most books start off way too complex)
* How to strum the blues properly
* How to fingerpick the blues – make one guitar sound like two!
* Turnarounds – the secret to making the blues sound fresh and fun
* How to play the blues in all 12 keys
* What exactly `shuffle` is, how to play `shuffle` any why it is one of the most important factors in blues
* What exactly blues techniques such as repeated bends, vibrato, `bend and release` are and how to play them
* How a simple structure is the template for EVERYTHING in blues and how to easily remember it
* Learn how a `secret` 6 note scale makes playing blues lead guitar super fun and easy
* Why learning complete scales can be a massive waste of time – especially in blues music
* Learn a variety of killer licks in the styles of blues greats such as B.B. King, Eric Clapton and Jimi Hendrix
* Specific steps on how to play a `call and answer` blues and why it is incredible fun
* How to properly use upstrums with confidence in blues and all other styles
* The two critical errors most beginners (and quite a few experienced) players make when practising scales
* Learn how to play both one and two bar turnarounds so you always have an option when jamming the blues
* 4 powerful tips on what to do and where to go next once you have completed the book
Important note This book is aimed at the absolute beginner to blues guitar, NOT guitarists who have played blues before.
If you are experienced at playing blues guitar then this is not the book for you.
If you are new to blues guitar then you will love it.
It starts off basic but by the end of the book it gets very exciting and sounds fantastic. Listen to the final examples to see for yourself!