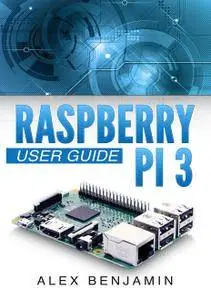 Raspberry Pi 3: 2016 User Guide by Alex Benjamin
2016 | ASIN: B01FWERLSW | EPUB/PDF(conv.) | 43 pages | 400 Kb, 9 Mb
Computers & Technology
The goal of this book is to get you up and running with your Raspberry Pi 3 as soon as you take it out of the box. Here's an idea of what you'll find inside this book:
-What is the Raspberry Pi 3?
-How is it different from the other Raspberry Pi Models?
-How is it the same as previous models?
-What operating system should I install? What if I am a beginner?
-How do I access the software?
-How do I connect to the internet?
-I heard that it is good for project involving the Internet of Things – what does that mean?
-I have a Raspberry Pi 3, but is there anything else I need? Do I need a monitor and keyboard? What about WiFi? Does it have enough power? Can I plug four USB devices in it and it still work properly?
-I want to build my own circuits. What should I get? Are kits good investments for beginners?
-What is GPIO and what does it mean to me?
-How can I used Mathematica or Python to control the GPIO?
-How do I access Mathematica or Python to start running my own programs?
-What are some really good online resources as I continue my journey?