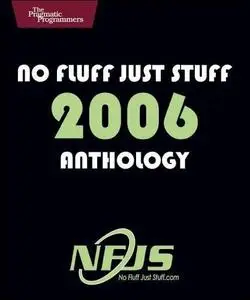 Pragmatic Bookshelf (Creator) and Neal Ford (Editor), «No Fluff, Just Stuff Anthology: The 2006 Edition»
Pragmatic Bookshelf | ISBN 0977616665 | 2006 Year | PDF | 2,5 Mb | 256 Pages
info:
/
http://www.amazon.com/exec/obidos/ASIN/0977616665
Summary:
Twenty-seven weekends a year, the No Fluff, Just Stuff conference rolls into another town, featuring the world's best technical speakers and writers. Up until now, you had to go to one of the shows to soak up their collective wisdom. Now, you can hold it in the palm of your hand. The
No Fluff, Just Stuff Anthology
represents topics presented on the tour, written by the speakers who created it. This book allows the authors the chance to go more in depth on the subjects for which they are passionate. It is guaranteed to surprise, enlighten, and broaden your understanding of the technical world in which you live.
The No Fluff, Just Stuff Symposium Series is a traveling conference series for software developers visiting 27 cities a year. No Fluff has put on over 75 symposia throughout the U.S. and Canada, with more than 12,000 attendees so far. Its success has been a result of focusing on high quality technical presentations, great speakers, and no marketing hype.
Now this world-class material is available to you in print for the first time.
Download