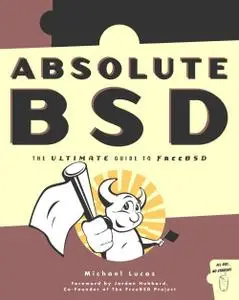 Michael Lucas << Absolute BSD: The Ultimate Guide to FreeBSD - 1st Edition>>

No Starch Press | ISBN 1886411743 | August 2002 | PDF | 7.75 MB | 616 Pages
Home Page
Pages:
616
Publisher:
No Starch Press
Edition:
1st Edition (August 2002)
Language:
English
ISBN:
1886411743
Category:
Client/server computing
Format:
PDF
Size:
7.75 MB
FreeBSD is a powerful, flexible, and cost-effective UNIX-based operating system, and the preferred server platform for many enterprises. Includes coverage of installation, networking, add-on software, security, network services, system performance, kernel tweaking, file systems, SCSI & RAID configurations, SMP, upgrading, monitoring, crash debugging, BSD in the office, and emulating other OSs.
Michael W. Lucas is a network engineer with extensive experience with intra-office and nationwide networks. He is the author of the critically acclaimed Absolute OpenBSD and Cisco Routers for the Desperate. Lucas has worked with Cisco devices since 1995 and is currently responsible for a high-availability Cisco-based network.
Download
Mirror