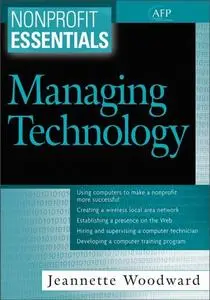 Nonprofit Essentials : Managing Technology
Wiley | ISBN 0471738387 | Mar 2006 Year | PDF | 3.89mb | 288 Pages
Book Description
"Nonprofit Essentials: Managing Technology is a comprehensive work. Suitable for any size organization, the book is distinguished by its focus on 'the human factor' along with volumes of technology information. It should prove to be an invaluable resource for administrators, volunteers, and trustees who must ensure their organization's effective use of technology."
—Richard F. Hobson, President Hobson Renaissance Solutions LLC

Download Description
Computerization represents an economic commitment that many nonprofit groups with tight budgets have been reluctant to make. However, computerization is no longer optional. Nonprofits must compete effectively for scarce dollars. Nonprofit Essentials: Managing Technology helps nonprofits take the leap and integrate technology throughout their operations. With its accessible, easy-to-read style and in-depth advice, it will get readers excited about technology instead of intimidated by it. –This text refers to the Digital edition.
Password:
5n7p3r
Download
http://rapidshare.de/files/20243743/Wiley_Nonprofit_Essentials_Managing_Technology.rar