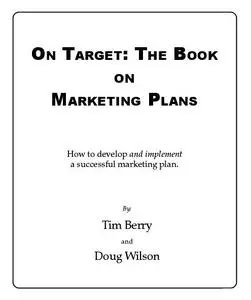 Tim Berry, Doug Wilson «On Target: The book on marketing plans»
Palo Alto Soft, Inc, Publishing | ISBN 0966489136 | 2st edition (2001) | PDF 356 Pages| 3.48 MB

The right tools will enable you to create a marketing plan that will effectively use your resources to attain your marketting goals and objectives.
It's About the Plan

So you're looking to develop a marketing plan. You might be a business owner or business manager. You might be a marketing expert, beginner, or pragmatic do-it-yourself person. Either way, our goal is to help you get that plan built in a logical, orderly way, and accomplish your goals.
If you're already a marketing expert, we think we can still help you develop a plan. You probably already know all we have to offer about marketing strategy and tactics, but we can help you through the planning process, give you the step by step guide, and suggest a methodology for channeling what you know into a logically sequenced, orderly plan that you'll be able to implement. You know as well as anybody that marketing plans are not as generally accepted and defined as business plans, so the framework itself can help you get the job done.