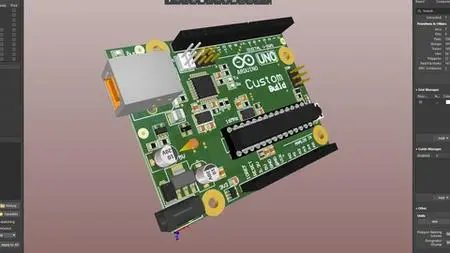 PCB Design (with 3D Model) in Orcad 17.2/Allegro (2019) (Updated)
.MP4 | Video: 1280x720, 30 fps(r) | Audio: AAC, 44100 Hz, 2ch | 8.74 GB
Duration: 12.5 hours | Genre: eLearning Video | Language: English
Schematic in OrCAD Capture CIS, Printed Circuit Board, BOM,Footprints, 3D Model,Routing and Gerber files for Arduino UNO.
What you'll learn
Students can draw their own schematics and Design their own custom Printed Circuit Boards
Students will learn basic terminologies related to PCB's that are used widely in books and industries
In Addition students will learn widely used electronics concepts
Requirements
Basic Concepts Of Electronics
Windows 10 (also works with Windows 7 & Windows 8) or Mac OS
I recommend to use a mouse if you are using Laptop
You will need a OrCAD & Cadence Allegro Software. If you are College/University student, you can ask for a student license (I recommend you use ORCAD free 30 Days trial)
In addition to educational packages for colleges and universities, OrCAD supports the student community by providing a Lite / student version of OrCAD (Student Version: The OrCAD Lite / Student product versions are not licensed, but instead are limited in terms of design size and complexity)
Description
This is Latest & New course [ Published on Jan 2019 ]
Get Detailed introduction to Orcad Capture CIS, Padstack Editor and PCB Editor with Project-1
Project 1: Learn How to design basic Circuit based on real life projects [For beginners]
Level Up your Skills with Project-2
Project 2: Learn to design Schematic & PCB for Arduino UNO (includes multiple schematic pages, Off page connectors, search parts from Digi-Key, Professional Bill of material, Smart PDF for Schematic, How to download custom footprints , How to create 3D Model etc )
This course is complete & detailed walk through of industry leading PCB Design software.This course will help to develop a fundamentals in OrCAD, leading to better PCB design practices and skills. After completion of this course you will have skill and useful resources to design your own custom PCB's.
Who this course is for:
This course is very useful for students related to Electrical, Electronics and Computer Engineering . Also, this tool is worth to learn if you already have a knowledge about Altium Designer, Pads, Eagle or KiCAD
Engineering professionals who needs to learn and design their own printed circuit boards
Hobbyist, Entrepreneur and tech savvy people those are curious about PCB's