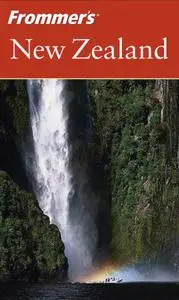 Adrienne Rewi, «Frommers New Zealand», 3rd Edition
Wiley Publishing | ISBN 0-7645-4292-3 | 2004 Year | 508 Pages | PDF | 4.8 MB
New Zealand has had a booming 2 years in tourism. Despite international downturns in travel because of the September 11, 2001, terrorist attacks and SARS, New Zealand has welcomed over two million visitors for the first time. There has been huge growth in all tourism sectors, and the mood looks set to continue. The airlines,though, are still up in the air — at least in terms of who's who. The proposed merger between Air New Zealand and Australia's Qantas is still awaiting approval; Britain's Virgin Blue has successfully negotiated Trans-Tasman flying rights; and United Airlines has withdrawn from New Zealand. Here's what else is new in New Zealand.
AUCKLAND The new multimillion-dollar Britomart Transport Exchange has finally opened, and Aucklanders are looking ahead to a more organized, more efficient city transport system—and hopefully less traffic congestion with all buses,trains, and ferry services converging downtown. Subritzky (& 09/534-5663) launched a new 500-passenger ferry to Waiheke Island at the end of 2003. It also takes 50 vehicles and makes the trip to Waiheke Island much easier.There was huge disappointment that New Zealand failed to retain the America's Cup for a third time, but
Auckland has continued to flourish regardless, with high occupancy rates, major revamps, and new construction.A welcome addition to moderately priced inner city accommodations is the brand-new President Plaza Hotel Auckland, 1 Hobson St. (& 0800/773-743 in NZ, or 09/356-1000), ideally placed near Viaduct Harbour.There's sumptuous new upmarket bed and breakfast accommodation at Cotter House, 4 St. Vincent Ave., Remuera (& 09/529-5156); and Mollies, 6 Tweed St., St. Mary's Bay (& 09/376-3489), is a stylish new boutique hotel close to trendy Ponsonby. Just across the water on Waiheke Island, The Boatshed, Tawa and Huia streets (& 09/372-9619), has beautiful luxury suites; and Longhouse (& 09/308-9044), also on Waiheke, is New Zealand's first residential cooking school. On the adventure front, you can now leap off Auckland's Harbour Bridge and survive to tell the tale. This is thanks to A.J. Hackett
Bungy (& 0800/462-8649 in NZ, or 09/377-6543).New restaurants and bars are too numerous to list, but one worth trying is Chandelier, 152 Ponsonby Rd. (& 09/360-9315), a completely overthe-top dining experience that draws an avant-garde crowd. Gault at George, 144 Parnell Rd. (& 09/358-2600), is another worth shelling out for.