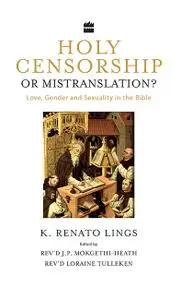 Holy Censorship or Mistranslation? Love, Gender and Sexuality in the Bible by K. Renato Lings
English | July 7th, 2021 | ISBN: 9354225411 | 332 pages | True EPUB | 1.15 MB
Although the Supreme Court of India decriminalized same-sex relationships in a historic ruling in 2018, societal attitudes remain largely unchanged. One of the reasons cited for this is that religion, which has a pervasive hold on people's mindsets, takes a conservative view of such matters. Two landmark books - I Am Divine, So Are You and Behold, I Make All Things New - attempted to correct that misconception by putting forth perspectives on sexuality from Hinduism, Buddhism, Jainism, Sikhism, Judaism, Islam and Christianity. They recast religion as an ally, not an adversary, of queer emancipation.