Kingsoft Power Word 2006 Chinese-English-(Japanese) Dictionary Collection
software for Win | ISO + SP1.exe | ~ 624 MB
http://www.sinicave.com/pd_kingsoft_powerword_2006.cfm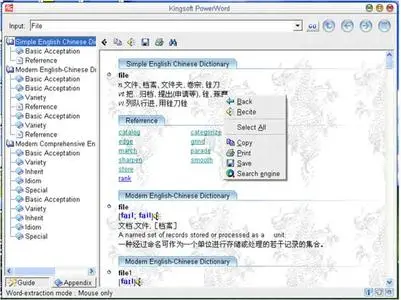 Power Word contains a huge collection of various Chinese/English and Chinese only dictionaries, running in a common framework. It also displays the English meaning of Chinese and Chinese meaning of English words in any electronic text when moving your cursor on the word. It has both a Chinese and an English interface, depending on which Windows you install it, English or Chinese.
Unzip, mount or burn "PowerWord2006.iso", then start "autoexec.exe". From the splash screen displayed choose the installation of Power Word 2006, then install the upgrade patch "Powerword_2006_SP1.exe" (also included in this .rar).
During installation take care to uncheck all the radio buttons on the second (or third) setup screen displayed at the beginning of the setup, otherwise it will put you a lot of rubbish on the desktop. And at the end of the installation of PowerWord 2006, when on the closing screen it displays only one word (I don't remember which, but it begins with "b…") with a checkbox, then
DO UNCHECK IT,
because otherwise it installs an adware on your PC.
Here you are a list of the functions of Power Word 2005 (I could not find a similar list to 2006, but obviously this latter includes the former…):
Kingsoft Powerword 2005 is a Chinese and English language study tool, being very popular with students of Chinese language, traders and merchants, engineers and scientists in various fields. It's a convenient way for bilingual study and a powerful tool for advanced Chinese study.

* Kingsoft Powerword 2005 includes newly added 49 dictionaries and reference glossaries of science and technology issued and approved by National Science & Technology Terms Examination Committee
* Kingsoft Powerword 2005 has a newly added powerful Full-text Search Feature that will enable the user to easily find from among over 200 million Chinese characters the needed word and almost everything related to that word including illustrative sentences, idioms and phrases. It supports combination search for multiple words.
* Powerword 2005 provides a new intelligent spelling Recommendation feature that will offer you a list of words with similar spelling to the incorrectly spelled word you input, then you can find the right word you want.
* Powerword 2005 supports customizing dictionaries for cursor translation by selecting one or more specialized dictionaries.
* "Chinese Characters Index by Radicals" and "Chinese Characters index by Pinyin" in the Powerword appendix can help you find Chinese characters you don't know.
* Powerword 2005 also provides a great number of common references including Currency Unit, Male/Female English Names as well as other comprehensive information in appendix.
* American Heritage Dictionary is included in Powerword 2005. With over 96000entries and 200000 illustrative sentences, the dictionary has a total circulation of more than 10 million volumes.
* Powerword has real-time pronunciation feature that will pronounce the word instantly when a word is pointed on by the mouse.
* "Search Internet" feature will send the searched word or phrase to Internet so as to find out more definitions.

* User Manual and Installation Instructions in Chinese

* Powerword2005 FAQ
One day later: Ok, in the meantime I have found a quite good description of the 2006 as well (at amazon.com):
Product Description
Kingsoft PowerWord is easy to use with powerful functions. It supports on-screen word extracting by mouse and convenient wildcard matching of a word. English-Chinese, Chinese-English and Chinese-Chinese dictionaries are provided. It is available to be run under WIN95/98/NT/Me/2000/XP and to perform word-extracting with i.e., Netscape and Acrobat Reader. Newly-increased up to 61 China National Committee for Terms in Sciences and Technologies authorizes all scientific and technological books. It contains 80 specialties such as medical science, law, finance, economics, industrial and commercial administration, chemistry, physics, cytology, agrology, entomology, coal science, astronomy and psychology, etc. The convenient full-text search function can search words at full speed and search the example sentence of the word easily. It is as convenient as 'google' search engine. Even you just remember general pronunciation, can also get the word you wanted to look for. Adopt international top TTS whole voice technology with pure American pronunciation. It adds up to 200 authoritative dictionaries, each word is furnished with phonetic symbol, etymology, explanation, morphological feature change, etc., and it is exhaustively support the fuzzy inquiry of the word, can deal with the relative clause and inversion sentence, and change the sentence pattern.

Product Features

* Super Thick dictionary : Contain over 960 million words from 150 Internationally recognized Chinese-English Dictionaries plus professional vocabulary from more than twenty Natural and Social Sciences Dictionaries.
* Cursor Dictionary : Instant display of English / Chinese / Japanese translation at cursor point. At the same time, shortcut coins provide assistance of printing and saving.
* Displaying phonetics, origin of word/character, definitions, phrases containing the word/character, examples, synonym, and antonym for each word/character.
* Support both Traditional and Simplified Chinese, include Chinese poems of Tang and Song Dynasty.
* Speaking dictionary : Leading TTS Voice technology that reads English and Chinese words. Suppord user interface in English, Traditional / Simplified Chinese and Japanese
Download (50MB each):
http://rapidshare.de/files/22820621/PowerWord2006.part01.rar
http://rapidshare.de/files/22826963/PowerWord2006.part02.rar
http://rapidshare.de/files/22830939/PowerWord2006.part03.rar
http://rapidshare.de/files/22833169/PowerWord2006.part04.rar
http://rapidshare.de/files/22835364/PowerWord2006.part05.rar
http://rapidshare.de/files/22837517/PowerWord2006.part06.rar
http://rapidshare.de/files/22843682/PowerWord2006.part07.rar
http://rapidshare.de/files/22847626/PowerWord2006.part08.rar
http://rapidshare.de/files/22850214/PowerWord2006.part09.rar
http://rapidshare.de/files/22852984/PowerWord2006.part10.rar
http://rapidshare.de/files/22855185/PowerWord2006.part11.rar
–––––
Other good materials for learning Chinese (I do not include here the books linked to Avax from the excellent
www.hanzi.ru
and is predecessor
www.polusharie.ru
that are far above the level of "just learning", and are listed in their respective sites anyway. But I cannot miss to refer to chinesepod.com that is, in my opinion, the best on-line Chinese course.) Where I do not indicate the uploader, it was me:
•
Colloquial Chinese. The complete course for beginners
•
Colloquial Cantonese. The complete course for beginners
•
Rosetta Stone, Chinese Mandarin, parts I-II
(Helden)
•
Dr. Eye 6.0 Chinese/Japanese/English Translation Software
•
Magic Translator v6.00.5777 Multilingual
(Alexpal)
•
Oxford Talking Chinese English Dictionary and Instant Translator
(biotop)
If to anyone occurs anything else, please post it, and I will include its url in my next post of materials for learning Chinese.