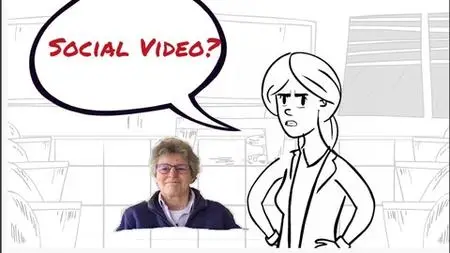 Creative Animation for Social Media Marketing step-by-step
Video: .mp4 (1280x720, 30 fps(r)) | Audio: aac, 44100 Hz, 2ch | Size: 1.29 GB
Genre: eLearning Video | Duration: 21 lectures (1 hour, 43 mins) | Language: English
Hands-on course for powerful Social Media Marketing Animation in Powtoon 2019 Social Media Marketing made easy and fast.
What you'll learn
Build an original Idea and content nest egg for your Social Media Marketing
Make 6- and 15-second Video Ads for Facebook with humor in Powtoon 2018
Learn a smart way to make daily 15 second Video Content for your Social Media
Make Youtube bumpers of 6 seconds
Learn to make animations from scratch from 1 or two slides
Requirements
Get a free account on Powtoon to follow along in th course. Four days to play with everything the software offers, after that just the parts that are free
Description
October 2019 and fully updated to Powtoon.
Master the art of Creative Animation for Social Media Marketing
In this course, I will show you real life-examples of how I work with my Social Media Marketing Video on Linkedin, what the results are and how to make them.
Angelika Davey"I love Powtoon and have used their templates many times, but thanks to Anneke's course I've now started to make my own from scratch - a lot easier than I thought!"
AND: I will teach you how to make your Personal Content Bank, your secret Golden Pot, where you put your animations that are coming from your personal experience, ready for later use, a source for all your original blog posts, Facebook Posts, Youtube videos, and Linkedin articles. This is absolutely gold and has never been taught before!
We will get hands-on with:
6-second ads
15-second ads
ads from scratch in two slides, step by step explained
35-second ads
animated ads
video ads with Story block live video background.
In about half an hour you can make it your own and send out a Facebook ad that works.
Never worry about making Social Media Content again.
Make original Video Ads, Video Content with the Powtoon App.
Carol Harvey: "I always enjoy Anneke's courses and watching her demonstrate what you can do with the updated Powtoon saves me a lot of time - much better than trying to figure it out myself! "
Powtoon had made it easy for us.
Have original video backgrounds, hand picked by Powtoon. Use the Storyblocks Video Snippets in Powtoon and use them for your idea and your business
Combine with Powtoon's high-quality overlays, text, image frames, and animation to deliver rich Social Media videos to your audience.
Powtoon has prepared lots of Youtube and Facebook compliant ad templates, but I use them on Linkedin as well.
Stand out with a different video format! Square and Vertical Video (for everybody who uses their phone for Social media watching)
Al Robinson: "Anneke is an excellent teacher of animation. She gives great examples. She also shares her own experiences using animation in her own business. You won't find a better hands-on animation course than this"
The best feature of Powtoon is, it is easy and fast to make Social Media Video!
In about half an hour you can make it your own and send out a Facebook ad that works.
Join me in this course to see how fast, easy and fun it is, and how professional the Social Media Video results are.
Just change Social Media Video templates for your business, and there you have a ready Video Ad, compliant with all the networks, Facebook, Youtube, Linkedin, etc.
Master Powtoon 2019 fast with this course!
You can make your first fully functional ad today!
Enroll now.
Who this course is for:
Video Ad Creators, Social Media Cintent Creators, Facebook ad creators. Youtubers
Linkedin ads creators, Instagram users, Creatives.