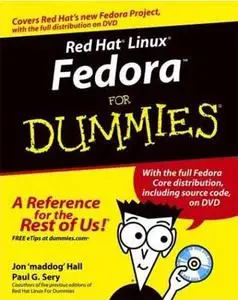 Red Hat Linux Fedora for Dummies
CHM file | 408 pages | Download Size: 5 MB
Author: Jon 'maddog' Hall, Paul G. Sery
Publisher: Wiley Publishing (2004)
Language: English
ISBN: 076454232X
This handy guide helps you work with Fedora by walking you through installing and configuring the OS, getting online, building a firewall, using Windows applications with Wine, tuning in with MPlayer, and much more.
Discover how to:
- Get online with cable, DSL, or dial-up modems
- Manage e-mail with Mozilla and Evolution
- Troubleshoot a network
- Partition and defragment hard drives
- Use the GNOME desktop environment
- Work with OpenOffice.org
About the Authors
- Jon "maddog" Hall is Executive Director of Linux International and author of several books on Linux.
- Paul G. Sery assists in operating and managing the Computer Science Research Institute Network.
Link:
http://rapidshare.de/files/23963710/rdhtfed_frdmm.rar