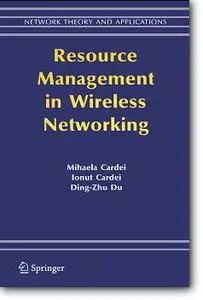 Mihaela Cardei (Editor), et al, «Resource Management in Wireless Networking»
Springer | ISBN 0387238077 | 2005 Year | PDF | 14,35 Mb | 695 Pages
This is the first book that provides readers with a deep technical overview of recent advances in resource management for wireless networks at different layers of the protocol stack. The subject is explored in various wireless networks, such as ad hoc wireless networks, 3G/4G cellular, IEEE 802.11, and Bluetooth personal area networks. Survey chapters give an excellent introduction to key topics in resource management for wireless networks, while experts will be satisfied by the technical depth of the knowledge imparted in chapters exploring hot research topics. The subject area discussed in this book is very relevant today, considering the recent remarkable growth of wireless networking and the convergence of wireless personal communications, internet technologies and real-time multimedia. This volume is a very good companion for practitioners working on implementing solutions for multimedia and Quality of Service – sensitive applications over wireless networks.