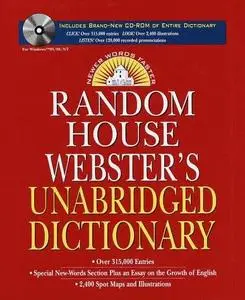 Based on the Random House Living Dictionary Database, which strives to keep pace with the dynamic nature of the English language, this CD-ROM provides access to the complete text of the printed dictionary (315,000 entries). The definitions are supplemented by 2400 maps and illustrations (of average quality) and 120,000 American English pronunciations (both genders are represented). Searching is a breeze. It is possible to browse the alphabetical list or search by main entry, within the definition, or anagram. Searches can be limited to entries with pronunciation or a picture. Each word entry includes the definition, etymology, written pronunciation, date (or range) when a word or phrase entered the language, part of speech, synonyms, antonyms, and usage note, when appropriate. The words in the definition can also be searched with a right click of the mouse, and it is easy to save, sort, export, and print results. Unfortunately, the CD-ROM excludes several excellent and useful portions of the print dictionary, such as a separate section of new words, a list of words commonly confused, and a Basic Manual of Style. The Bottom Line: Libraries that can afford it should purchase the book and CD-ROM combination for $75. Patrons will find it comprehensive and easy to use. Random House Webster's Unabridged Dictionary is recommended to public, special, and academic libraries for its currency; the graphics are not the focus here.AEd Tallent, Research Instruction, Harvard Coll. Lib.
Copyright 1999 Reed Business Information, Inc. –This text refers to the Audio CD edition.
Merriam-Webster Unabridged CD-Rom | Approx. 90Mb
A powerful electronic version of America's most comprehensive dictionary!
* Installs easily onto hard drive for instant access
* Over 476,000 entries and 1,000 color illustrations
* 13 powerful search options
Download
My previous posts on Building Household Robots:
Make Magazine Vol. 6
Lego Mindstorms Robots - 4 fantastic books on building robots with Lego Mindstorms
AGULLÓ, Miguel et al - Building and Programming Advanced Robots - LEGO Mindstorms Masterpieces
1
2
3
CLAGUE, Kevin et al - 10 Cool LEGO Mindstorms Dark Side Robots, Transports, and Creatures
1
2
3
4
5
ELLIOT, Jeff et al - 10 Cool LEGO Mindstorm Robotics Invention System 2 Projects
1
2
3
4
5
KNUDSEN, Jonathan B. - The Unofficial Guide To Lego Mindstorm Robots
http://rapidshare.de/files/23773123/KNUDSEN.rar
2.67 MB
MARTIN, Fred - Robot Builder's Guide - M.I.T. LEGO Robot Design Competition
http://rapidshare.de/files/23801447/MARTIN.rar.html
MATIC, Nebojsa - PIC microcontrollers for beginners
http://rapidshare.de/files/23801564/MATIC.rar
2.83 MB
SHIRCLIFF, David - Build A Remotecontrolled Robot