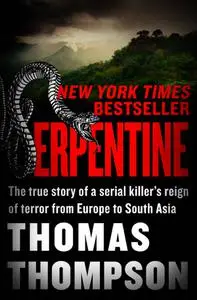 Thomas Thompson, "Serpentine: Charles Sobhraj's Reign of Terror from Europe to South Asia"
2016 | ASIN: B01N5EQU2D | English | EPUB | 580 pages | 1 MB
New York Times Bestseller: This in-depth account of Charles Sobhraj, the serial killer portrayed in Netflix miniseries The Serpent, is "compulsive reading" (The Plain Dealer).

There was no pattern to the murders, no common thread other than the fact that the victims were all vacationers, robbed of their possessions and slain in seemingly random crimes. Authorities across three continents and a dozen nations had no idea they were all looking for same man: Charles Sobhraj, aka "The Serpent."

A handsome Frenchman of Vietnamese and Indian origin, Sobhraj targeted backpackers on the "hippie trail" between Europe and South Asia. A master of deception, he used his powerful intellect and considerable sex appeal to lure naïve travelers into a life of crime. When they threatened to turn on him, Sobhraj murdered his acolytes in cold blood. Between late 1975 and early 1976, a dozen corpses were found everywhere from the boulevards of Paris to the slopes of the Himalayas to the back alleys of Bangkok and Hong Kong. Some police experts believe the true number of Sobhraj's victims may be more than twice that amount.

Serpentine is the "grotesque, baffling, and hypnotic" true story of one of the most bizarre killing sprees in modern history (San Francisco Chronicle). Edgar Award–winning author Thomas Thompson's mesmerizing portrait of a notorious sociopath and his helpless prey "unravels like fiction, but afterwards haunts the reader like the document it is" (The Plain Dealer, Cleveland).

About the Author
Thomas Thompson (1933–1982) was a bestselling author and one of the finest investigative journalists of his era. Born in Forth Worth, Texas, he graduated from the University of Texas at Austin and began his career at the Houston Press. He joined Life as an editor and staff writer in 1961 and covered many major news stories for the magazine, including the assassination of John F. Kennedy. As Paris bureau chief, Thompson reported on the Six-Day War and was held captive by the Egyptian government along with other Western journalists. His first two books—Hearts (1971), about the rivalry between two famous Houston cardiovascular surgeons, and Richie (1973), the account of a Long Island father who killed his drug-addicted son—established Thompson's reputation as an originator, along with Truman Capote, of the "nonfiction novel." In 1976, Thompson published Blood and Money, an investigation into the deaths of Texas socialite Joan Robinson Hill and her husband, John Hill. It sold four million copies in fourteen languages and won the Edgar Award and the Texas Institute of Letters prize for best nonfiction book. To research Serpentine (1979), an account of convicted international serial killer Charles Sobhraj, Thompson flew around the world three times and spent two years in Asia. His other books include Lost! (1975), a true story of shipwreck and survival, and the novel Celebrity (1982), a six-month national bestseller. Among numerous other honors, Thompson received the National Headliner Award for investigative reporting and the Sigma Delta Chi medallion for distinguished magazine writing.
"The most bizarre true-crime narrative since the Manson story Helter Skelter." —San Francisco Chronicle

"Riveting." —Chicago Sun-Times

"This pounding [true] story of larceny and murder from Hong Kong to Paris . . . should hold readers . . . in coils of intrigue, twists of coincidence." —Time

"Shocking impact . . . [Serpentine] marks Thompson as one of the finest non-fiction writers of the decade." —The Philadelphia Inquirer

"A prodigious feat . . . A parade of loves and furies, cultures and countercultures . . . Its shocking message will have a resounding effect for years to come." —Los Angeles Times

"A massive unraveling of one of modern history's most nefarious drug and rob men . . . Thompson is a dogged reporter and a tireless detective and, most of all, a keen observer of human nature." —Houston Chronicle

"Overwhelming . . . Monumental . . . The best yet by a master journalist." —Los Angeles Herald Examiner

"Compulsive reading . . . Alive . . . [Serpentine] unravels like fiction, but afterward haunts the reader like the document it is." —The Plain Dealer (Cleveland)

"Riveting . . . A writer of tremendous power and achievement . . . [Serpentine] is first-rate storytelling." —Detroit Free Press

"A stunning successor to Blood and Money . . . undeniably impressive." —St. Louis Globe-Democrat

"Polished, intricate, fast-moving, superb . . . Sobhraj has the cobralike appeal, the mesmerizing attraction . . . of the truly evil. His magnetism is almost impossible to resist." —The Atlanta Journal-Constitution

"Tempestuous and bizarre with enough sex and betrayal and intrigue to fill the darkest scenario . . . proof-positive that truth is stranger than fiction." —Nashville Banner

"[Thompson's] evocation of the exotic locales . . . and his descriptions of the operations of criminal justice systems on the other side of the world are among the virtues of Serpentine." —The New York Times Book Review

"Sensational . . . Astonishing . . . Fascinating." —Publishers Weekly

"[A] true crime tale of epic proportions." —Library Journal

"Breathtaking . . . Sizzling . . . Thompson moves from bloody murder in Texas to a one-man tidal wave of blood sweeping across Asia, telling his story with the same focus and intensity—and even more horrific detail." —Kirkus Reviews